You know there are so many inventions out there. Like the sex toy that connects over wi-fi, and the Kelloggs bag that costs $750, and the virginity kit. Now, I've discovered a new one: the Shewee! So what is this Shewee that I speak of?  Well, you know as a woman, you have to squat to pee – when you are not on a toilet – while men, on the other hand, can just whip out their members and aim it where they please.  If you give them your mouth, they will aim it there, too.
For centuries, women have suffered – what, with having to squat and all. But alas, freedom has come in a plastic funnel with an extension tube: the Shewee. With the Shewee, women can now pee while standing. Sure, women may have fought for their rights to drive, work, and vote. But no one thought of the right for she to wee while she stands. Until now, that is.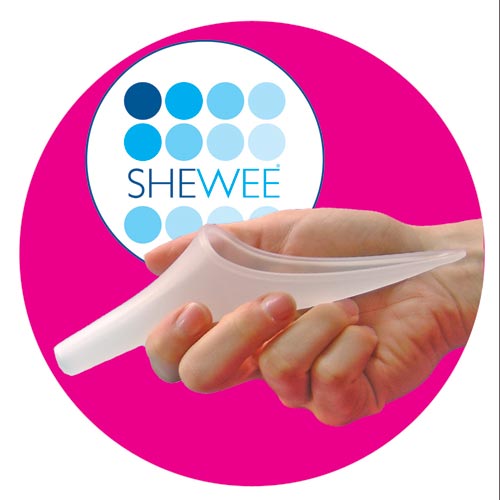 For only $28.95, you, too, can own a Shewee … plus the extension tube. Now, let me explain to you that this Shewee isn't made for you to carry around for no reason. It is made specially for outdoors, like for camping and all that good stuff.
At first glance, I thought it was ridiculous. Like who wants to walk around – even in the woods – with  a pee cup?  And since when did squatting to pee become obliterated? Not to mention, urine stinks, so why would you want to carry a pee cup in your bag? But then, I began to think of it. I'm sure we all know at least one person whose bathroom we would not be caught using, so perhaps, this here is an alternative. The question now is, when you go to said person's house, where do you aim the pee? I don't know why this is coming to my spirit, but I'm thinking kitchen sink. The follow-up question here is, where will this person be while you're aiming your pee in his/her kitchen sink?
When you figure out the answer to this question, you can go on over to Shewee and order yourself a Shewee for when you have to wee. In the meantime, enjoy the videos. And I don't know about you guys, but I'm not completely sold on this Shewee. I'm gonna need a Sheshit before I buy it.
P.S. Will this be good as a birthday gift?
P.P.S. How do you like my new design? There is only one correct answer by the way: I love it! It's not completely done yet. There are some blank pages, especially at the bottom. But I'm getting there.