There are certain items they say that all women should own at least one of: black mascara, little black dress, perfume, a clutch, a pair of four inch heels, a man … and much more.
But because times are always changing, every now and then, new items hit the market, and they are tagged with statements like, "Must Have," "You Need This …" etc. I have gone out of my way to tag this bag as a must-have for every woman who is a real woman. Continue to see the bag that you must own.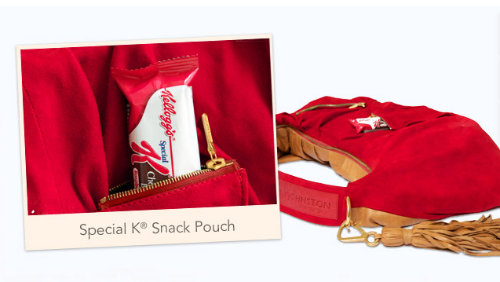 Behold, the $750 bag that comes with its own Special K snack pocket. As in! Do you know how many times I have wished for a bag that can hold my Special K snack bar?  Because you know, regular bags – regardless of their size and/or number of pockets – just cannot hold a Special K snack bar. Not the way this one does.
What makes this bag even better is that although I do not eat Special K snack bars, I know that I at least can get a bag for it, just in case. All this time I have always bought cheap bags with genuine leather and head-turning style for about $80 to $100, but this Special K bag only costs $750, and it has a flippin' Special K bar pocket! Where have I been all this time?
If you are wondering what inspired this affordable, stylish bag, it is because a stunning 96% of women think about snacking everyday. What the fudge?! Sometimes I think I have seen it all, and then, I see something like this. Did you know that 96% of women think about snacking — EVERY DAY?! Sacrilege! Isn't there something else that they can think of — like not snacking?
I'm off to get this bag. Get yours while it's still available. These bags are flying off the shelf like crazy.
[Soure]