Just this past Saturday, we discussed long distance relationships on The Verastic Show, and my co-host was Sisi Yemmie who has been in a long distance relationship with her nine-year boyfriend – now fiance. Five out of their nine-year relationship has been long distance. Just like most other episodes of The Verastic Show, people – not me, of course – were able to somehow make the show about sex, asking Sisi Yemmie how she copes without sex and if they've even had sex. She refused to answer that question, in case you're wondering.
LovePalz must have known what was on our mind because I just read that they have created a new sex toy for long distance lovers – called LovePalz. The male toy is called Zeus, and the female toy is called Hera. Aptly named, no? These toys are wireless, rechargeable, power-saving, easy to hold, and water-proof!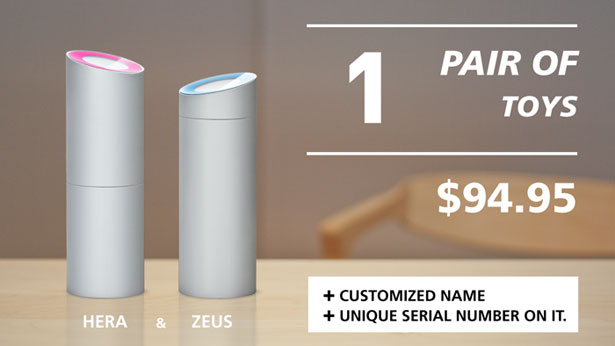 So how do they work, you ask? Wi-fi and an iPhone app, of course. What were you thinking? These devices also have the functionality of video conferences, device connection and interaction, and find your lover. Speaking of wi-fi, I have a picture in my head where a lover in Nigeria is using this toy and the internet trips off leaving both partners stranded, horny, and pissed. Gooooood stuff!

I want to ask why one would need a "friend's list" for a sex toy because I'm wondering how many people a person may want to have virtual sex with, but I guess this is much like real life where a person has real sex with more than one more person. While having a lot of friends on Facebook makes you look like some kind of famous person, I wonder if it'll have the same effect in the LovePalz friends list. Imagining connecting to your girlfriend's / boyfriend's device and discovering that she/he has 300 friends. Say what?!
Anyway, each of these devices cost $49.95, but together, they cost $94.95. But there is also a gold one that is 24K gold for only $10, 000 (for the pair). There are only 10 of these, so for all my Nigerian people who like to buy the priciest items just because they can, you should hurry while supplies still last.
You may read more about LovePals here.
P.S. The iPhone app has not been approved by iPhone yet, so don't go looking for it yet.
P.P.S. But you can pre-order the toys. As of right now, 2183 orders have been made.
P.P.P.S. I dedicate this post to Sisi Yemmie, Funmie, and everyone in a long distance relationship. Go get your toys, folks!
[Source]