This past Saturday, I went on a movie date with Funmie and her sister, Seun. If I had gone alone, I would have seen Wolverine (can't believe I've still not seen it, considering he's my favorite X-Man and favorite Aussie). But Funmie wanted a feel-good movie (and knew nothing of the movies that were in the theater), so I chose We're The Millers.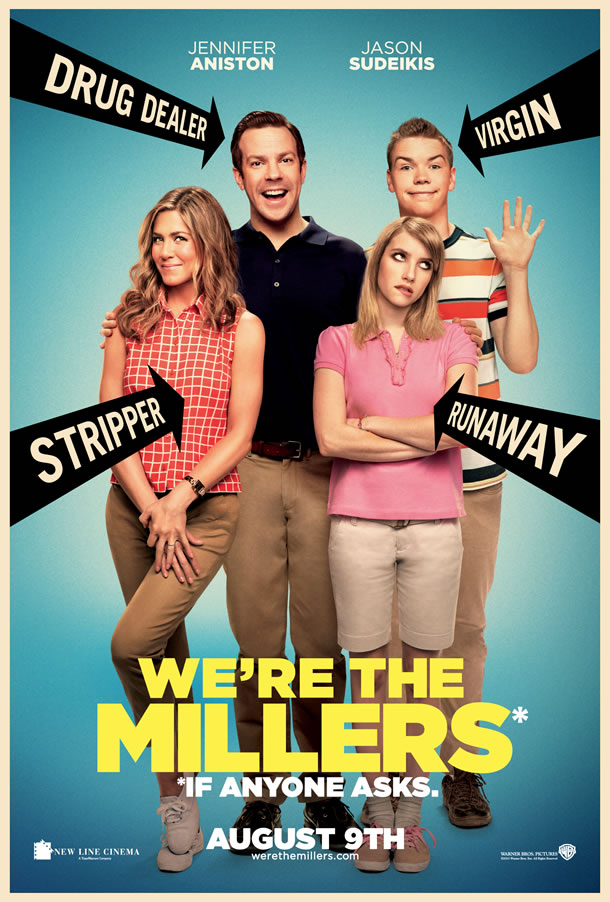 I like Jennifer Aniston, so I'll most likely see anything she's in. Before going to see this movie, I knew it was a funny movie, but I did not know it was this funny. If you are offended by the f-word or jokes surrounding sex, then maybe you shouldn't see this movie.
Without giving you any spoilers, the plot is about a small drug dealer, David Clark (played by Jason Sudeikis) who has to pay his drug supplier by going to Mexico to smuggle in a "smidge" of weed.  He gets the bright idea to go with a pretend wife, Rose O'Reily (Jennifer Aniston)  and two pretend kids – Kenny Rosemore (Will Poulter) and Casey Mathis (Emma Roberts). Now, the fun begins. If your sense of humor is like mine, then you'll laugh from beginning to end. Expect ear sex (don't ask me; just watch it), swollen nuts (due to a tarantula bite), and of course – especially for the men – Jennifer Aniston stripping and strutting her stuff. By the way, we did not even know that it is rated R.
In my opinion, there was some very real chemistry between the cast. Even when they showed the bloopers at the end, you could tell that they had some real fun shooting this movie. And let me tell you, I was right there with them, enjoying it, and imagining myself in it. Oh, some day. Also, when it comes to comedy, you just have to nail your delivery timing for it to work well, and I think they did just that.
Grade: B
Here's the clean version of the trailer, without the naughty words.
P.S. I don't think that Jennifer Aniston was a good stripper. Sorry, Jenny.
P.P.S. I loved Jason Sudeiki's impression of Bane.