I know, I know. I just got back from Florida last week for Arinze's wedding. This time, I'm going to a different part of Florida. I'm going to Miami for Uju's graduation. My dear friend finished Med School last year, and now, it's time to walk the stage and snag that degree. I don't have the words to say how proud I am of this girl. She's just too much. I love you, Obianuju!
I'll be travelling with Igwe and Funmie. Our flight is later this evening, and I'm grateful for the evening flight. My last few flights have been early in the morning, and for someone who is NOT a morning person, that's really asking a lot from me. It puts me under all kinds of duress. I'm happy that I won't be travelling alone this time cause then we can play in the airport – whatever that means. If not for anything, we can take pictures of ourselves.
Since I came back from Tampa last week, I have been playing catch up on everything. This happens every time I travel.  I am sorry for all the e-mails I have not responded to yet. I promise I'll get to them. In addition to having just come back from Tampa, Igwe also just came back from Nigeria (I'll blog about that later), so we've got luggage all over the darn place. I didn't bother completely unpacking my luggage from Tampa because I knew I'd be travelling again soon, and Igwe hasn't unpacked his either. I've knocked my toes more times than I can count on the luggage, and each time I scream, "Damn it!" and then, I promise to move them, but err … yeah, still there.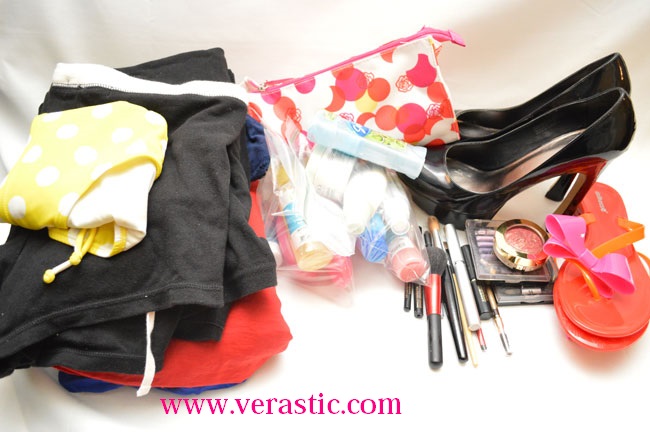 Anyway, these are some of the things I'm travelling with. Uju said we'll go to the beach. I'm excited about that, but I'm also dreading the heat. I have my sunscreen and sunglasses, so Jesus take the wheel. Uju said we'll also be going clubbing. I don't know yet if I will make it there since I'm not much of a clubber, but I'll see how that goes.
Adios!! I'll be sharing pictures via Instagram.
P.S. I apologize for the excess light in my picture. I'm too much in a hurry to fix it.
P.P.S. No bra pictures this time. Can't promise next time though.
P.P.P.S. You know what I realized today? I need new clothes!