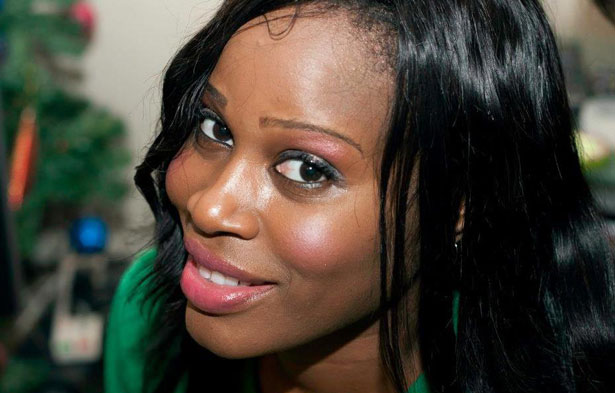 When I think of Uju, I think of these words: beautiful, fun, adventurous (a little too much), energetic, honest, blunt, extrovert, crazy, really crazy, really, really, crazy, dependable, happy, funny, mysterious, loving,  intelligent, caring, passionate, loyal, real, generous, fashionista, crazy. Did I already mention crazy? I mean, unnaturally, disturbingly, inexplicably, ferociously crazy. And I love her so.
I first met Uju in maybe 2003 or 2004, don't remember exactly. It was not love at first sight. I did not care much for her. She dressed like a White girl (rider boots, boot leg pants, chains on her pants, etc) and she had an attitude to go along with it. The attitude was definitely Igbo though, not White. I met her through Funmie; they were co-workers at that time.
I actually remember the first time I met her, too. It was during the summer, and Funmie and I were both taking summer classes. We were parked close to the Tech Building that hot day; I was already in the passenger's seat in front and Funmie was about to get into the driver's seat when I heard her exchanging pleasantries with some weird yellow girl. Even the way Uju responded to her, I thought, who the heck is she?
Then one day, she was moving to a new apartment and Funmie was driving us (in her hoopty) to the new place. She made an illegal right turn and bam! We were in an accident with a truck full of Spanish people. Well, it was just two Spanish people really. They said we had to pay a ridiculous amount of money; they knew we were afraid. We cried and begged, but lai lai, they didn't agree. Funmie and Uju said, "Please, we are only XX years old." (We were still teens). It wasn't funny then, but today, it's one of the funniest experiences we have had.
When we went into Uju's house, she lay inside her empty closet and cried her eyes out. I rubbed her back and said sorry. I think that was when I might have fallen in love with her. I liked seeing her vulnerability; now she seemed like a real person. Since then, she has cried many other times. As have I.
I remember when she had this early morning job and we lived about five minutes walk away from each other. I slept in her house a lot, and when I'd wake up every morning, the first thing I'd see is Uju's naked yellow ass – literally. She'd be rubbing lotion on her legs, bent over, and somehow, her ass was always facing my side of the bed. I got tired of telling her to face her ass the other way. Besides, it's not like anyone forced me to sleep in her house, in her room, and on her bed for that matter. I understand that this might have been a turn on for a man, but because I already had my own yellow ass – which was also bigger – I did not care to see another, especially at the first image in the morning.  It almost sets a theme for the rest of the day, you know.
And there were those times that all of us (about seven) had "parties" in Uju's house – nicknamed The Club House – for no reason. It wasn't even a real party and we were the only ones invited. Like the "Fried rice party," the "Egusi soup party," and the "Philly Cheesesteak party" (this one was headed by our Liberian friend, Mike, and it was an epic fail to say the least. We don't know what we made, but it didn't look or taste like any kind of cheesesteak we had ever had. Or seen.
Uju is more of a sister than just a friend now. She's like my mom's other daughter and my grandma's other grand daughter. I remember when Uju started calling herself Osisi na mi ego (Money-sucking tree), and every time Grandma would ask for the so-called ego (money), she would say her container was still on the high sea. Mm hmm. Correct Igbo girl.
She's so honest that she cannot even be accused of gossiping. I remember when Funmie had this ex boyfriend (Funmie will kill me for this), and Funmie had broken up with him. But he was speaking to Uju about it, Uju said, "Yeah, Funmie said you're a weed head, that you smoke too much weed." He went back to Funmie and told her that "someone" told him what she had been saying about him. Funmie confidently denied it. Then one day, she was telling me and Uju about it – as per gist nah – and she told us how crazy he was to have accused her of saying that (though he was right). Uju then said, ever so casually, "Yeah, I told him you said that. I didn't know it was a secret" Shit hit the fan. There was no physical fight, and there wasn't even an exchange of words, but there were steaming ears and nostrils, and you could cut the tension in the room with a machete.
If you need a friend who will tell you the truth at all times – even when you don't care to hear it, Uju is the one. If you cannot handle the truth, you should not ask her questions like, "Does my stomach look too big?" or "Does this make me look fat?" or "Am I being stupid?" Yes. Yes. Yes.  Speaking of which, I remember when this chic asked Uju what she thought of her boyfriend. Bad move. Uju said, "Well, I wouldn't date him, but it's not about me." The girl did not appreciate it much.
She also has a sense of adventure that is questionable. I remember when she wanted us to take a road trip to Texas, by way of Florida. And she said we should not check into a hotel to rest, but rather, to sleep under a tree. The frightening part was how serious she was. I also remember when she was going to join the Police Academy because they would pay her tuition. She was serious about that too.
My dear Uju, I love you die. I am blessed and honored to call you my friend. It's been one heck of a fun ride getting to know you in the past decade. We've shared all kinds of stories with each other: family, school, work, men, money … it doesn't end. When you find that lucky man, I'll make sure to warn him very well to take extra care of you. I know you like to be the big girl, the strong one, but I know that inside, you are fragile. You're to be handled only by the best, and only with absolute care. Any man would be lucky to call you his wife, and anyone would be lucky to have you as a friend. You are beautiful inside, outside, and in between. If my brother had lived, I would have gone above and beyond – I'd use juju and armed thugs, if necessary – to see to it that you become an Ezimora. All hope isn't lost though; I can marry you.
I love you, Uju. I know I don't say it half as often as I should, but I really, really, really, REALLY love you. If I could change a thing about you, I wouldn't change anything at all. Well, we can work on slightly larger breasts. But other than that, I love you just the way you are. You are perfect. May this year knock you over with favors, blessings, and laughter. I wish you long life, health, prosperity, and more happiness than your heart can contain. Happy birthday, Obianuju.
Oh. And to show you how serious I am about marrying you, I am including Duncan Mighty's song, Obianuju to this post.
P.S. Uju is about to officially become a doctor, and I cannot wait! She needs to tell me what I should do to guarantee that I give birth to a confusingly identical set of twin boys.

P.P.S. Even while in Med School, Uju has been maaaaad supportive of me. She reads my blog, listens to the show, shares information about me and my career. In fact ….!

Audio clip: Adobe Flash Player (version 9 or above) is required to play this audio clip. Download the latest version here. You also need to have JavaScript enabled in your browser.
Obianuju by Duncan Mighty