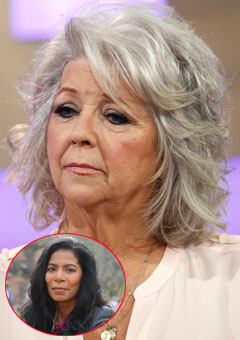 I'm sure that by now you must have heard about Paula Deen's fiasco. Her admittance to using the N word has landed her in very hot soup. Also, she allegedly wanted her brother to have a plantation-themed wedding with Black men servers dressed as slaves because that was such a beautiful time in history. I say alleged because I don't know the whole story.
Honestly, I did not know that this Paula Deen thing would blow up this much. The woman is without a doubt a heavy hitter when it comes to being an influencer. Now, her stock is plummeting faster than I can keep up with. Food Network won't be renewing her contract which ends at the end of this month. In addition to that, Smithfield Foods has also canned her, and "Caesars Entertainment Corporation, which operates Paula Deen-themed restaurants at four of its casinos, also announced that they will not renew their business relationship with Deen. And that's not even the end." – Essence
She appeared on the Today Show with Matt Lauer where she got really emotional and begged for forgiveness from everyone. But the point of this post is that she hired Judy Smith to fix her situation. Judy Smith is the woman who actually inspired the hit TV series, Scandal, so Olivia Pope is the fictional version of the real life fixer, Judy Smith.
I am pleasantly surprised at how far this case has gone. I was disappointed when I heard what Paula Deen said, but I was not expecting that she would lose so much in such a little time.  Usually, when a Black person does something, they throw the book at him/her, and now, here we are with a very White woman being punished for saying a word that was once widely accepted and celebrated. How the pendulum has swung, huh?
I have read a lot of comments with people saying that she's getting exactly what she deserves, and that's true.  She should have known better than to say those words. But for me, it's more about how she feels about Black people than about what she says. I mean, if she stops saying it, would it change how she feels? But then, there's nothing we can do to make her change her view.
That said, how much responsibility are we – Black people – putting on ourselves? Does it make sense that we continuously refer to ourselves by the N word, but then shout racist when someone of a different race does? How can we convince people that we don't want to be called the N word when we still use it all the time? I just don't think it makes any sense at all.
There's a proverb that says, "If the owner of the calabash calls it a useless calabash, then others will join him in using it to pack rubbish." In other words, if we call ourselves the N word, then others will join in and call us the N word, too.
Paula Deen talking to Matt Lauer
P.S. I know that not every Black person says the N word, but I'm generalizing here.
P.P.S. Does anyone else see this fiasco as an episode on Scandal or possibly Law & Order?
Source: Essence