I kind of apologize for the rant.
Ada Verastic is 5 months old now, and I have learned so much. But I know there's a lot more to learn. But there's one thing I have learned about my pet peeves: I don't like people kissing my baby on her lips. I think it's so gross and inappropriate. I don't know where your lips have been, so I want them nowhere close to my baby's face.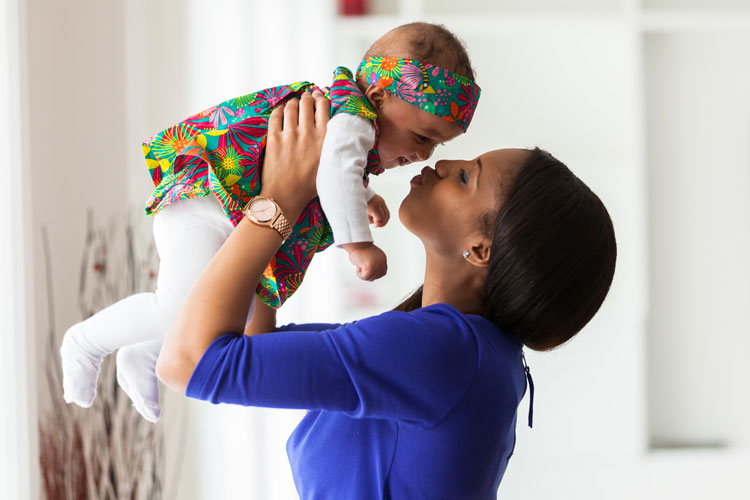 A while ago, we were with this lady who was a relative to a friend. This was our first time meeting this woman, by the way. Now, I understand why everyone wants to hold Ada Verastic: she's a baby and people's natural reaction is to want to hold any baby they see because babies are cute and adorable. Got it. Sometimes, people kiss babies on their face, and I don't mind this, unless you leave lip prints on her face, but to kiss her on lips is just so inappropriate!
Anyway, this woman was carrying Ada Verastic and talking about how beautiful she was and how she was making her want to have more babies and blah blah blah and I looked away for a split second and this woman had planted her lips on my baby's lips. Aaaahhhhh!!! I didn't say anything. It was already done, and she was handing her right back to me after kissing her. This happened a while ago, but as you can see, I am not over it yet. The thing still dey pain me.
I understand that with us as Africans, we tend to be – how do I put this nicely – completely oblivious about personal space, but it does not really excuse this behavior of kissing my baby (or anyone else's baby) on the lips.  I'm really bothered by this. For starters, I'm already a person who is easily irritated and grossed out. For example, one of the many things I hate about night clubs is having my body rubbed against by sweaty people. Ugh! Woe betide you if I am happily dancing and you come and stand behind me and rub your sweaty body on me. Get thee behind me, satan! Way behind and away from me.
I am also the girl who will not go to a party and eat a fruit or vegetable salad or moi moi or beans or efo. Why? Because in my head, I have somehow calculated these foods to be too personal. Like the chef has to have too much contact with the food. It probably does not make sense to you reading it, but that's just me. I refuse to eat those foods. Once, I went for a party and I picked up a fruit kebab and put a piece of grape in my mouth, but I immediately spat it out when I saw the girl who was putting them on the stick — with her bare hands. Disgusting. I'm getting irritated all over again just thinking about it. *spits*
So you see, if I am so passionate about eating fruit salad, you can imagine how I feel when people kiss my baby on her lips. Seriously, that's disgusting. I know that the chances of a disease transferring from the kisser to Ada Verastic is very slim, but it's not really disease that I'm afraid of. I'm just the person who does not like that kind of intimacy. I mean, you wouldn't go around kissing someone you just met, right?  So why would you kiss a baby?
I should clarify by the way that I don't have a problem with my very, VERY close family and friends kissing Ada Verastic on the lips. Of course, they can. It's the strangers that I don't want to have that kind of familiarity with.  Which kin nonsense be that one nah? When did you start love with Ada Verastic that you're kissing?
It's very interesting watching how Americans interact with me and Ada Verastic and how my Nigerians do. The Americans are always so cautious, seeking permission before touching her and seeking explicit permission to carry her. Nigerians, on the other hand, see me sitting with her at a party and just come and extend their hands to hold her. Excuse me, Ma, do I know you? Seriously, this just happened to me a couple weekends ago, and I did not know this chic from Eve.
For now, I have maintained my calmness, but I don't know how much longer I can be this nice person that is not natural to me. It's not that I don't want people to carry/touch Ada Verastic, but that I would like to be a little prepared. I mean, perhaps you could at least say hello to me and introduce yourself first? It reminds me of when I was pregnant and people were just always touching my belly. It was so weird! I was not afraid of someone doing juju by touching my belly, but my belly was still an intimate part of my body. Imagine sitting on a bench somewhere and some stranger starts rubbing your belly. I know people mean well when they do this, but it's just weird. It's my belly. It's different when it's someone you know and/or you're having a conversation about the baby or pregnancy in general, versus a random rub by the person you just met two minutes ago.
Biko, na God I carry dey beg all you random kissers: don't do it!!! Do NOT kiss my baby on the lips. I cannot fight for all babies, but I can fight for this one. If it were my mommy who was holding Ada Verastic and you just appeared and kissed her on the cheek sef, my mom would tell you something you don't want to hear, and she will say it very loudly, too. I'm a lot nicer than her. [But I secretly wish she was there that day that woman kissed Ada Verastic on her lips.]
Am I overreacting, or do people need to take a chill pill?
P.S. Do people still say chill pill?
P.P.S. I cannot even begin to tell you everything I get irritated about because I don't want you to judge me.