Since giving birth to Ada Verastic, grandma has been staying with me. After she came, she was gone for about a week because she had a cold. Grandma can come and go as she pleases because she only lives about 10 minutes away from me. Anyway, she's my only living grandparent, and really, the only one I met because her husband, my grandpa died before my mom even got married, and my paternal grandpa died before I was born (I think). My dad's mom, however, was still alive when I was born, but she died before we met because I was born in Russia, and by the time my parents brought me back home, she was gone unfortunately. I wish I would have met all my grand parents. But I am so grateful for the one I have. Also, I am my grandma's oldest grandchild, and I have been blessed to make her a great grandma.
So, my grandma is a very funny woman, even when she does not mean to be funny. She's almost 80 years old, so at this point, I guess there's no need for her to have any verbal filter; she just says whatever she's thinking. In addition to her words, her actions are just as entertaining. Let me tell you a few things about my beloved grandma (in no particular order):
1.  She overcooks her food, although she swears it's me who does not cook my food enough. Example, she cooks oatmeal for like 10 minutes, although it's one minute oatmeal. By the time she's done, walahi, it looks like fufu. She also overcooks rice and spaghetti and says that the people who made the spaghetti don't know what they're talking about (because the instructions say to cook for about 9 or 11 minutes). She accuses my rice instead of not being done because they're still still single. But rice isn't supposed to clump and stick together.
2.  Her sarcasm game is on fleek! She's so good at it that sometimes I don't even know when she's not being sarcastic.
3.  She consistently reports me to family here and in Nigeria, telling them that I don't eat and that I'm feeding the baby "water" and calling it breast milk. Her interpretation of me not eating is my insistence that I currently have no appetite for fufu and/or soup.
4.  She's very suspicious of the microwave. She won't warm anything in a plastic bowl (even if the bowl is microwave-safe) and will only warm with ceramic plates. She also has to cover her ceramic plate with another ceramic plate (so that whatever the microwave is emitting does not enter inside her plate/cup). Example, it could be a cup of water in a mug that is covered with a salad plate. Imagine that.
5.  I suspect she might be suffering from a mild case of Hypochondria. She loves watching channels like Discovery Health and TLC, which is great — except that she's always diagnosing herself with something. Diabetes. Cancer. Blindness. Even death. Grandma has diagnosed herself with them all. I'll tell you about her cancer drama one day.
6.  She's also suspicious of cell phones. She won't put the cell phone next to her ear when she's on the phone, due to fear of whatever she thinks the cell phone might transmit. I suspect that the cell phone and microwave transmit the same thing. Her refusal to put the phone next to her ear explains why she never hears the other person well, and why the other person never hears her well. But she blames the phone, of course. Check out this picture below that I took of her. Sssshhhh. Don't tell her, she doesn't know.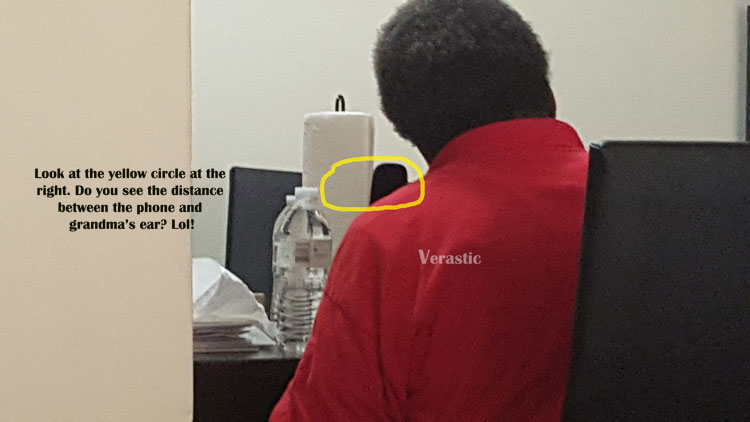 7.  She's a truth sayer – sometimes a little too much.
8.  Grandma washes her hands 200000000000000000 times a day. This is why a roll of paper towel does not last anymore in my house.
9.  She loves CNN. She can watch it all day —- and then get depressed about all the ndi uwa ojo (people of the bad world).
10.  She hates FOX News, but she watches it religiously. Then she calls Nigeria to complain of how Fox News is speaking badly about Obama.
11.  She calls her prayer line every evening to recite the rosary with a bunch of people that I don't know. She never mutes the phone when she's talking to us or when Ada Verastic is next to her crying. I wonder how the prayer people feel.
12.  When giving Ada Verastic a bath, she'd rather boil water in the kettle than fetch it from the faucet. I still don't get this one. Maybe she's suspicious of the faucet, too?
13.  You can travel to Nigeria and come back and my grandma will still be taking a shower. I have no idea what she does in there, and I kind of wish I could watch her. I'm just curious about what takes her so long. And no, she's not sitting on the toilet reading a magazine or scrolling through Instagram like me; she's actually in the shower.
14.  She has accused me (and consequently reported me to relatives in Nigeria) of making Ada Verastic's butt red. I ate one spicy (peppery) meal and grandma said it made Ada Verastic's butt red. I don't think it works that way. And her butt was not red. Because of this alleged redness, grandma went into hyper Destin mode. She started vigorously applying Destin cream to Ada Verastic's butt. But Destin is for diaper rashes, and Ada Verastic has none.
15.  She sometimes unplugs the wipe warmer (which Funmie bought for Ada Verastic) because she believes it will make the wipes hot and they will burn Ada Verastic's butt. I have told her many times that this will not happen; I don't think she believes me.
16.  Dresses Ada Verastic in all kinds of colors. Sometimes the girl looks like a rainbow – and not in a good way. So when Ada Verastic starts crying, I tell grandma that she's crying because she does not like the way she is dressed.
17.  She accuses me of spoiling my baby, says I carry her too often and for too long. However, when I do have Ada Verastic and she happens to cry, grandma comes running out of her room to take her from me. I put pacifiers in every room and I bought a swing to help soothe her, but grandma refuses to use either. You know what she does instead? She carries her.
18.  She says my meatballs aren't cooked. But the meatballs I use are fully cooked before I even take them out of the bag. Of course, grandma insists that the meatballs people don't know what they're talking about.
Above all, my grandma is a strong woman. She birthed 9 children, 3 of which were triplets (with no epidural!). By the way, when I asked her how she birthed the triplets, she said casually, "Ah ah, one by one na!" She ran home to the village with her children when the Biafra war was raging, and while in the village, she and her children took shelter in the back room when nearby homes were being blown up. Her last child was still an infant. She was alone because my grandpa – God bless his soul – was in Port Harcourt working, and when the danger grew too much, he and others walked all the way from Port Harcourt to Adazi Nnukwu, Anambra.
Through all her trials, my grandma – fondly called Mama – has stood her ground gidigba! She has loved and lost, but she has lived, and I pray that my Grandma does not leave me any time soon. I pray that we celebrate her 100th birthday. I am not done making her a great grandma, and I want her to meet the rest of her great grandchildren. I cannot overemphasize the help and relief that she has been to me. Priceless.
I love my Mama 🙂
P.S. Don't tell her I blogged about her! She will instruct me to go and fi cha pu ya osiso! (clean it off immediately!), as she often says about her pictures in my phone.