This is a sponsored conversation written by me on behalf of Olay . The opinions and text are all mine.
Look, I LOVE my makeup. When I stand in front of my mirror and fill my brows in, I pat myself on the back (on the days that I get it right). Over the years, my makeup style has changed a lot. For example, I used to love colorful eyeshadows, but now I like a more natural look with a bold lip color. Also, I used to love shiny, sticky lip glosses, but now I'm a lipstick girl. Specifically, a matte lipstick girl. All that being said, there is only one thing I love more than applying my makeup, and that's taking it all off.
When I come home, the first thing I do is take my shoes off at the door. After that, you already know that I take my clothes off and then take my bra off and fling it wherever it chooses to land. But next on the list is my makeup. Having makeup on fleek is great, but having a face that's also on fleek without makeup is twice as nice. Have you ever had someone compliment your makeup/foundation when you did not have any on? Best. Feeling. Ever. It's right up there with being told that you smell nice.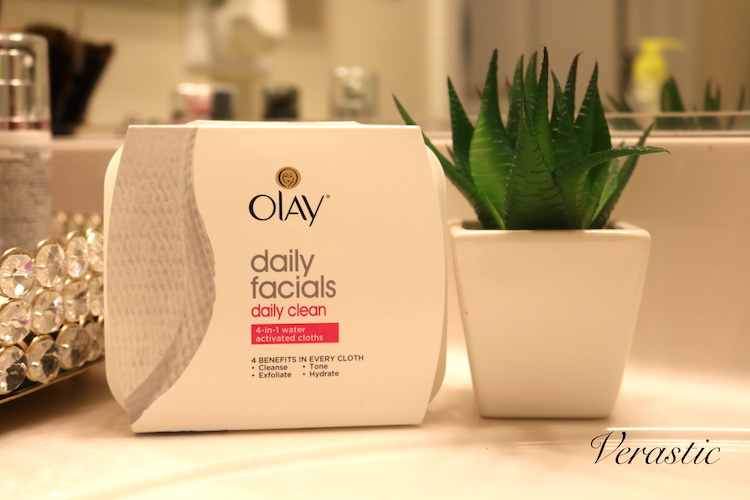 Over 10 years ago, I discovered Olay Daily Facials Daily Clean 4-in-1 Water Activated Cloths. I had not heard about it from someone, and I had not read about it from anywhere. I just discovered it when I went looking for something I could conveniently clean my face with while standing at the sink. I knew I did not want a liquid soap, and I knew I did not want a beauty bar, but I did not know what my options were until I saw the Olay Daily Facials and fell in love.
I'm a lazy beauty lover. I love applying my makeup, and I love taking care of my skin, but I always want to do the least amount of work and get the best results. And that, my people, is why and how I started using the Olay Daily Facials. It's an all-in-one dry cloth that becomes activated by water and lathers immediately. It's soap-free, safe for all skin types (I have combination skin), and is dermatologist-tested.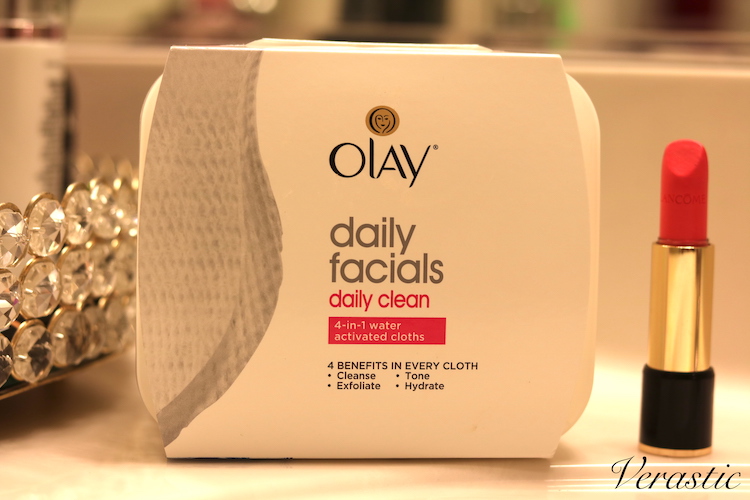 Shooting two birds with one stone is so overrated; shooting four birds, however, is my act of shooting. I use one Olay Daily Facials cloth to accomplish four things: Cleanse, tone, mask, and scrub. All with one cloth. And all in the time I could have used to only cleanse. The result is conditioned and gently exfoliated skin.
Using the Olay Daily Facials is very easy. All you have to do is wet a cloth with water, rub to lather, cleanse your face (even around your eyes), rinse the close and use it rinse your face, and then, throw the cloth away. Done. These days, being a product junkie is highly encouraged, so it's a breath of fresh air to be able to clean my face and not grow old while doing it because I have to use 20 products at once.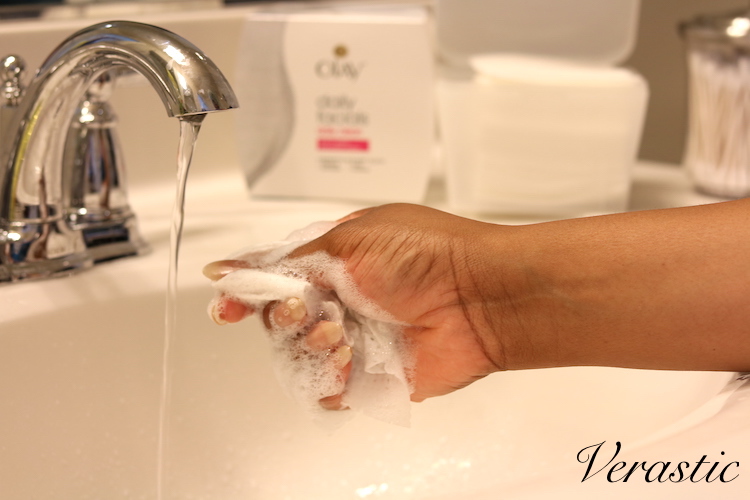 I've used these clothes for so long that I've introduced it to a lot of people along the way, sometimes even accidentally. My mom, for example, when I lived with her, fell hopelessly in love with these wipes and kept "reducing my ration." I remember when a certain wholesale store who shall remain unnamed used to carry it, and I think they sold three or four months supply in one box and I'd stock up on it.
Bottom line, ladies, if you want a face wash that will do quadruple the job of ordinary cleansers and save you time and money while at it, then you should definitely try the Olay Daily Facials. Olay Daily Facials will cleanse your face of dirt and makeup; the wipes will also tone your face and act like a mask by hydrating it, and lastly, your face will be exfoliated and smoothened. Seriously, you need to try Olay Daily Facials. You will wonder why I didn't tell you about it sooner.
I partnered with Olay for this post, but all thoughts and opinions are completely my own. #ad