I cannot believe I left my blog stale for so long. It was not my intention. I'm sorry. So, as you may know already, I was in Texas last weekend for Chisom's wedding. It had been at least 12 years since we last saw each other. But when I saw him again on Thursday, however, it did not feel like it had been 12 years. It felt like I was catching up with an old friend whom I had not seen for the past week.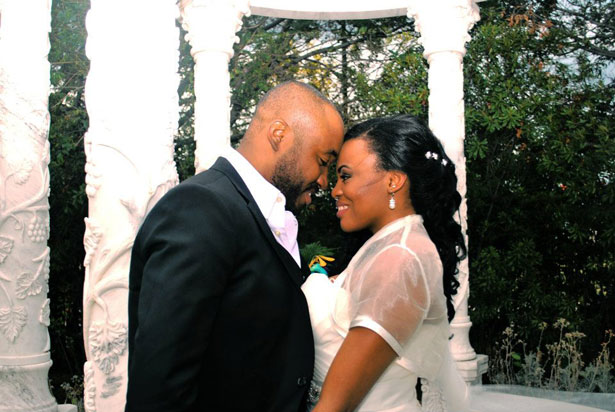 Chisom and his gorgeous wife, Chinwe. I think I love her. Let me tell you something, Chisom is soooooo in love with his wife. If you do not have someone who is in love with you, or if your person isn't as in love or as affectionate as Chisom, stay away from Chisom! Watching him express love for his wife might make you want to dive into the Pacific Ocean. It was soo beautiful watching them together.
The wedding was on Friday, and I arrived Texas on Thursday afternoon. I won't bore you with the details of each day, but just know that I spent each night with four boys – two cousins (Aribaba and his brother, Nonso), and two friends. I fondly referred to them as "The boys," as if I was talking about my children.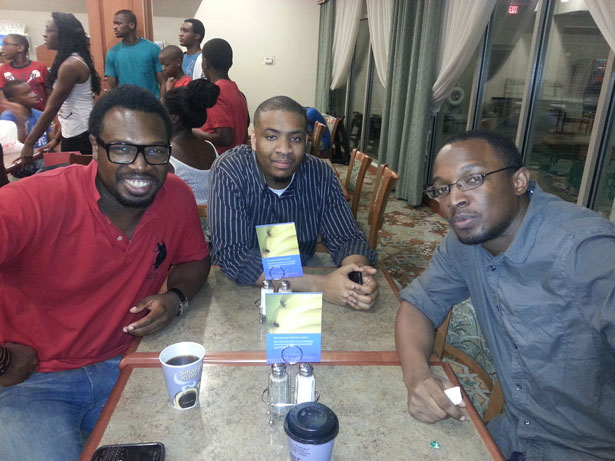 75% of "The Boys." Left to right: Aribaba, Chukwuma, and Nonso. I don't know where Chisom was.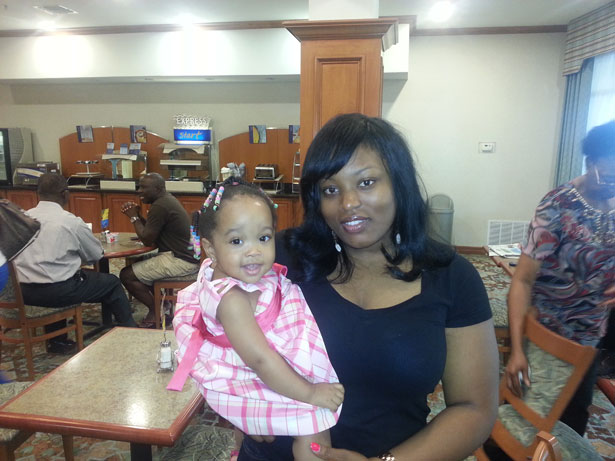 I still don't know who owns this baby, but she was so cute, and she had some serious attitude, refusing to let anyone carry her. So when she finally let me, it was a Kodak Samsung Galaxy S III moment.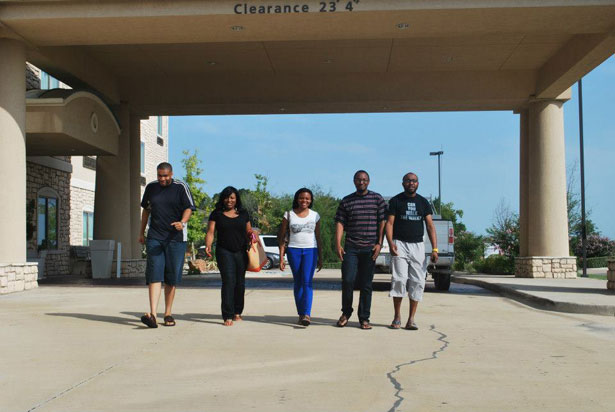 Walking out the hotel, we were reminiscing on our childhood, and we thought, what better than to do a "motion picture?" Left to right: Chukwuma, Me, Chinwe, Nonso, and Chisom. Still laughing at Chukwuma. He looks like he's trying to sneak, like he doesn't want anyone to know he's there. LOL.
Chisom's wedding started at 6pm on Friday and ended at 2am on Saturday. By the time I went to bed, it was past 4am, and I was woken up past 8 in the morning because they had to watch soccer. I thought of many things I could have done to the television if I was a witch (like make it spontaneously combust), but with no witchery prowess, I let it all slide.
The DJ was off the hook, don't remember his name now. I danced like a mad woman – literally. I drank whatever the bartender had sitting up there. And it was good. I don't know for sure, but I might have been tipsy by the time the event ended. You know how we have bridezillas? Well, Chisom was a groomzilla, and he did not even know it.
I cannot begin to count how many times he yelled at me and even threatened me, not considering my very important positions in this wedding: Special Stylist (in charge of pinning – and repining – the flowers on the Groom and his best man), Assistant Best Man (in charge of running around, carrying candles, distributing programs, etc), Special Gateman of the reception banquet hall (in charge of not letting people come into the reception hall until the event was officially open), and Official Introducer of the Official MC. Very important!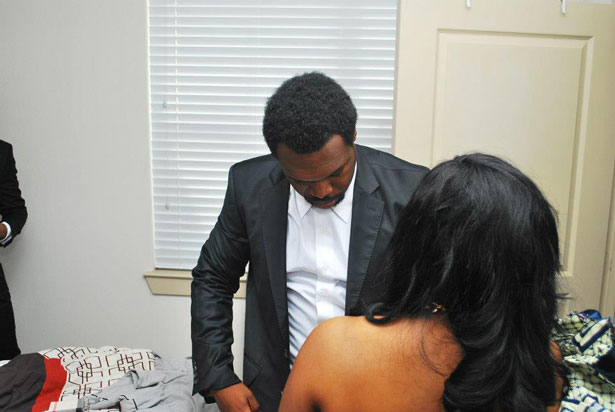 That's me in my Special Stylist position with Aribaba, the best man. I was trying to pin his flower.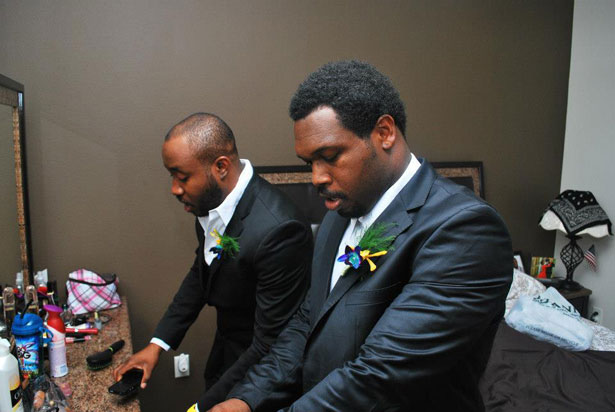 Chisom (groom) and his best man, Aribaba. Can you see their flowers? Clearly, I worked very hard!
Honestly, this was the best wedding I have attended in a long time, and even as I type this, I cannot think of one that rivals this wedding. Asoebi material was not enforced on the guests (you have no idea how anti asoebi I am); the music and ambience was young and fun, like the couple, and the events of the day did not to keep up with tradition. The couple made their own tradition. Most importantly, I was among family and friends, people that knew Vera long before she became Verastic.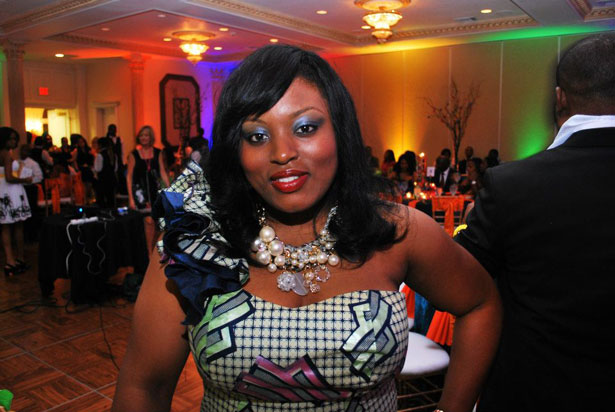 Aribaba took this picture of me at the wedding. My make-up was still a little bit intact. I don't remember taking it, but I like it.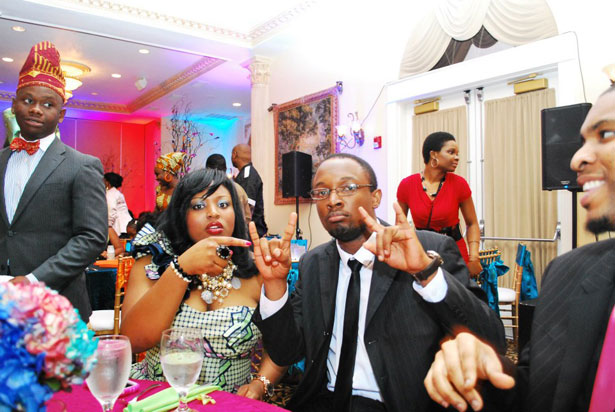 Me and my cousin, Nonso. I have no idea what was going on in this picture. But Nonso says we looked like we were having fun, and that's all that matters.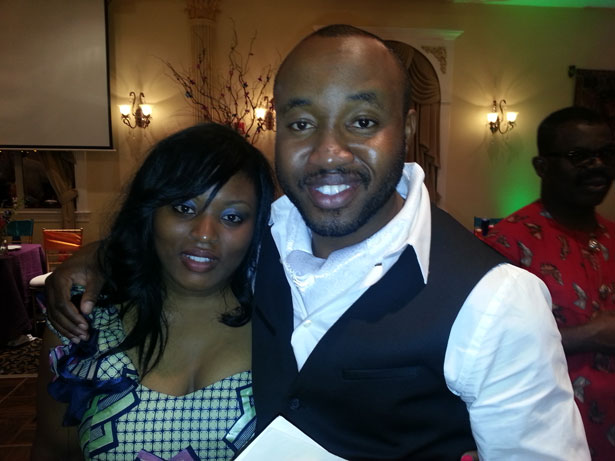 Me and Chisom after wedding. Hair was flat. Make-up was gone.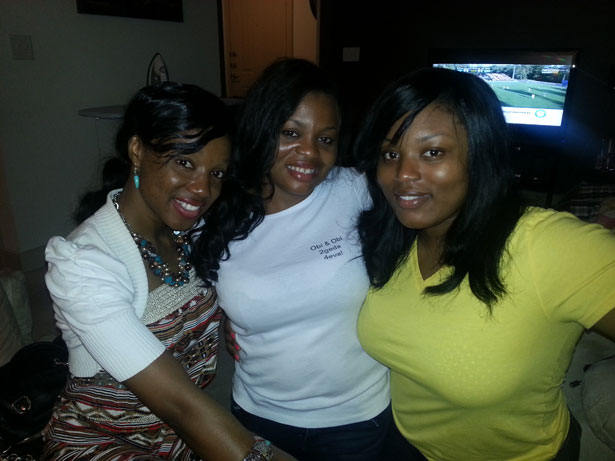 Nneoma (Chisom's sister), Chinwe (Chisom's wife), and me (Chisom's assistant best man). This was before the cookout on Saturday. I had just come out of the shower and put my clothes on when I took this picure.  No make-up whatsoever. Not even pancake. Nneoma and Chinwe cheated.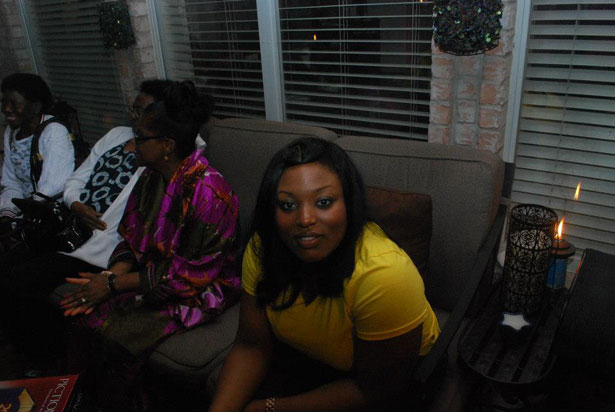 Me at the cookout.
There's so much more I want to tell you about my stay in Texas, but one post may not contain my gist. I don't want you to run away, so I'll stop here – for now. I'll probably sneak in more gists as the days go.
So how was your weekend? Not this past weekend, the one before?