This is the story of Tila the Tilapia. Before he and I met, he was just another tilapia sitting on the frozen seafood section of Shoppers, but after I met him, I bought him, took him home, and kept him frozen in the deep freezer until the day I decided to cook him.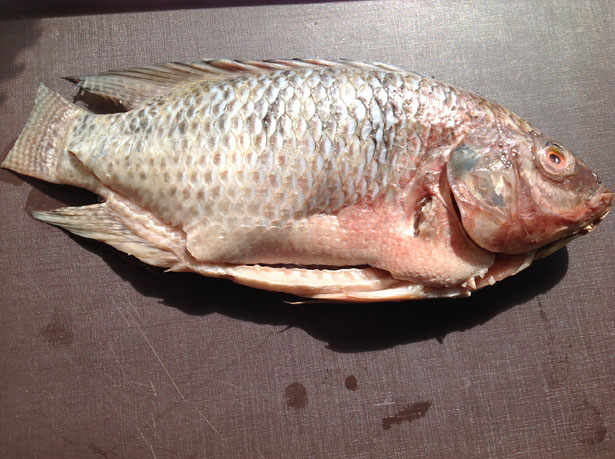 See, I am not really a seafood person. I am not the kind to think of or research recipes for sword fish, for example. And I do not eat oysters, crabs, shrimps, lobsters, and their likes. Just not my thing. The only reason I decided to do this was because Igwe had once mentioned his fish-stuffed-with-peppers-and-onions fantasy. In light of this, I decided to try my hands on it.
Steps
1.  First, I had to chop up the veggies. You may have noticed by now that I love cooking with tomatoes, bell peppers, et al. So  I chopped them up into cute pieces.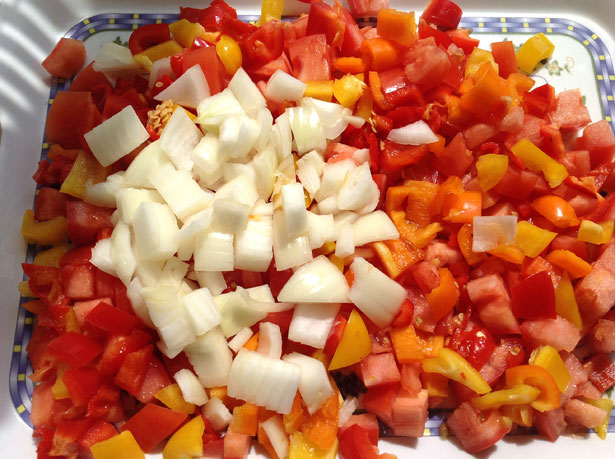 Tomatoes, onions, sweet red bell peppers, and habanero peppers.
2.  Pour some spices on the veggies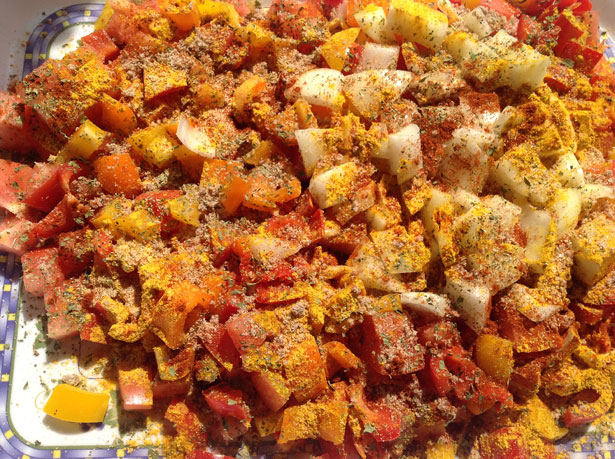 Spiced with curry, parsley flakes (not a lot), knorr cubes, ground cayenne pepper, and very little garlic powder.
3.  Mix the veggies and the spices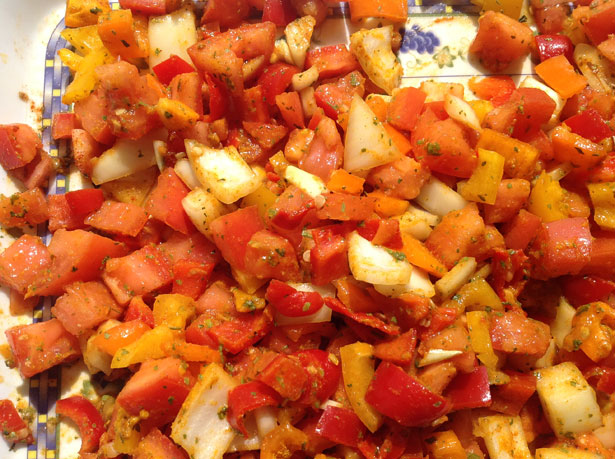 Mixed up with the spices.
4.  Give Tila the Tilapia – if that's what you call yours – an open heart body surgery. Cut him straight down the middle. This was the first time I ever attacked a fish of any kind in this way.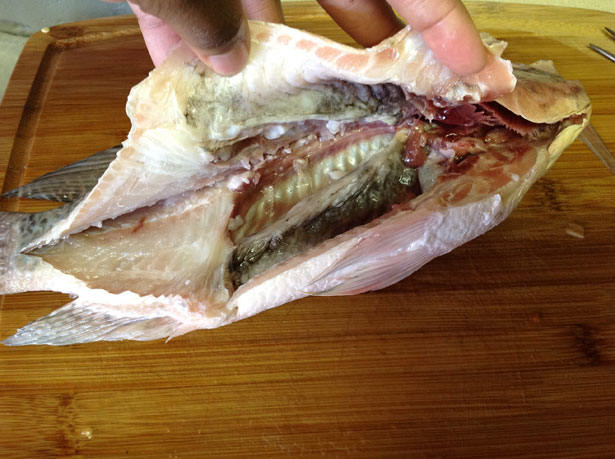 Open heart body surgery
5.  Mix the spice for the outside of the fish: about two table spoons of olive oil, curry, knorr cubes, parsley flakes, ground cayenne pepper.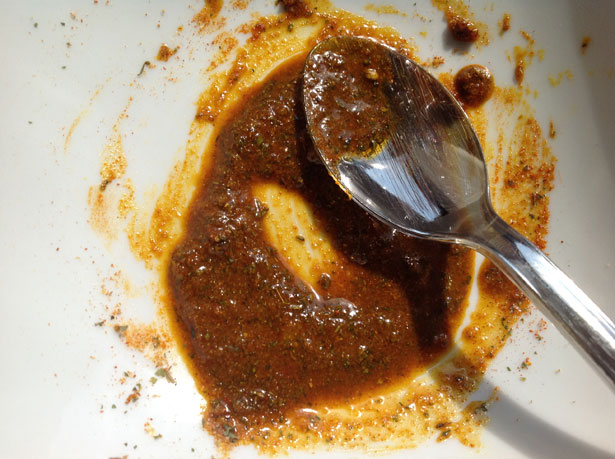 Mix
6.  Spice the fish (just the outside). But before you do, use about a teaspoon of olive oil to grease the foil pan. If you want, you can also put a layer of foil sheet inside the pan before you grease it.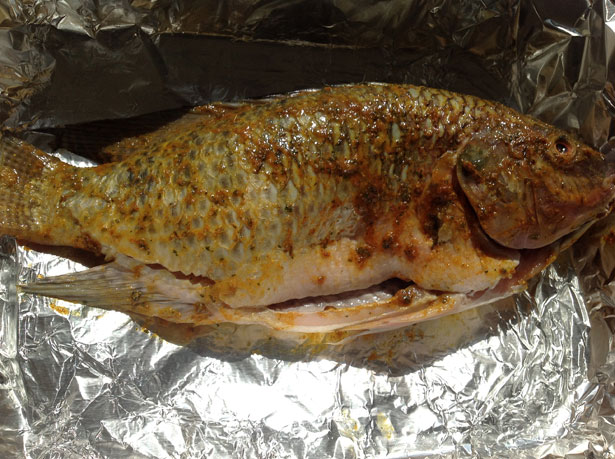 Spiced fish
7.  Stuff the fish with the spiced veggies.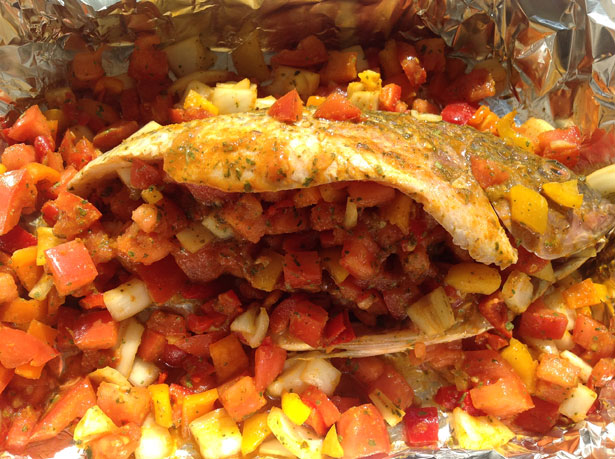 Tila the Tilapia is stuffed!
 8. Preheat the oven to 400 degrees and bake the tilapia uncovered. I baked it covered at 350 degrees, which made it retain water (from both the fish and veggies) that I had to drain every now and then, and since fish doesn't typically take long to cook, I'll suggest you go with 400 degrees, uncovered.
Voila …. Tila the Tilapia is ready to be eaten.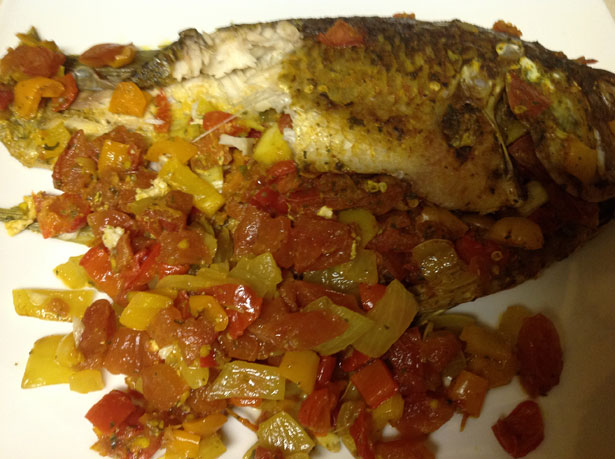 Unfortunately, I couldn't take a better picture of cooked Tila the Tilapia because Igwe got to him before I could. Not only did he eat that chunk off the fish, but he also ate the entire fish — plus all the veggies! Like I mentioned, I don't really like fish, so when he was ready to eat and I said I was not interested, he did not even try to convince me otherwise. Men!