Men and women have been cheating on each other for as far back as history goes. Okay, maybe men started cheating first. I have no proof, but I know I'm right.  Back in the day, I assume that people started illicit affairs when one person stared at the other person for far too long. Either that or one woman let her house girl get way too comfortable. But either way, there is someone sleeping with someone that the someone should not be sleeping with. That was then. Things are different now. There's a website for cheating. It's like a dating website, except that you're there to start an illicit affair.  Continue to see for yourself.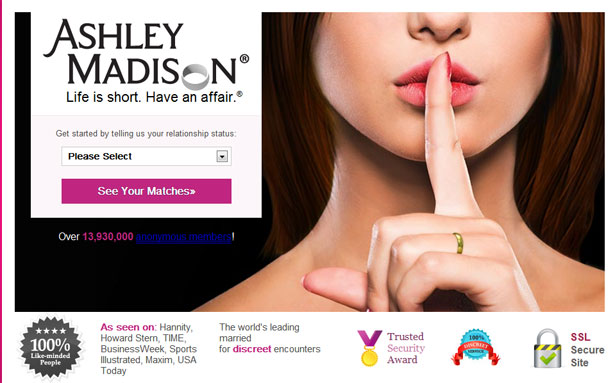 As you can see, the woman in the picture (culled from the website) has a ring on her finger. This isn't a website that is all mouth and no work. It is actually going to connect you to your next mistress or … mister? If starting the affair the normal way – whatever that might mean these days – seems too treacherous for you, then you're in luck. Cheating just got a little easier. And a little more technological.
The name of the website is AshleyMadison, and according to their front page, "Life is short. Have an affair." Ashley Madison is here to make sure that you burst a few more nuts on your way to hell. For a small price, of course.
Happy cheating 😉