But who has that kind of time??? When I heard that 99% of a woman's orgasm is mental, I went through a series of emotions that I cannot even put a name to. There are so many reasons why this percentage did not (and still does not) sit with me. Continue to find out.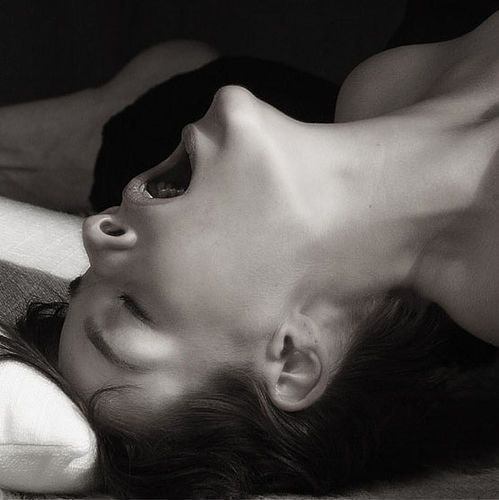 Excuse the White-woman picture. I couldn't find one of a Black woman that did not look like it was hard core porn – not that I would know what that looks like anyway.
See, if 99% of our orgasm is credited to our ability to channel our minds into the orgasm zone (this is not an official location; don't look for it), then what do we need the 1% for? Why do we bother having sex if the explosion-of-a-volcano-like feeling at the end is mostly dependent on our minds being able to picture it? We might as well have sex by ourselves, no? Of course, of course. Some of us you already do that. I know. But that one is conditional. We You do it because you have no other choice. At least, that's the general consensus. But that's not all about women's orgasm. There's more.
Only 35% of women experience orgasm during intercourse.
43% of women have problems with their sex life.
And the one I found particularly funny: studies show that parts of a woman's brain are deactivated during orgasm, especially those involved in emotion. Well, this must explain why after the orgasm we they get the "Oh, shit" feeling. It's because after the orgasm, the parts of our your brain that were deactivated are now reactivated. All of a sudden, your emotions remember that the person you're lying next to still hasn't paid child support for your three children. I don't know. That's how I imagine it.
But you know what's ironic? It's that something as physical as sex is almost completely dependent on the psychological. Why can't we just get some natural lubrication (i.e. the wetness that flows from within), get a few strokes, and bam! We're speaking in Japanese French with an Igbo accent. Why do we have to focus our minds?
But if it is true that 99% of our orgasm comes from our mind, then what the heck gives those men the right to say things like, "I gave you multiple orgasms …"? Next time a man says something like that, you should respond with, "No, you did not! I did 99% of the work. You only thrusted." That would be pretty accurate, right?
Do you realize that the effort you put into giving yourself an orgasm is higher than the effort the condom puts into protecting you from unwanted pregnancies and STDs? Condoms are only 80% effective, meaning that 20% of the time you're using them, you might actually get pregnant. Factor in the fact that you're also doing 99% of the work to get an orgasm, is it really worth it?
So I know what the men must be thinking, "This Vera is mad oh! She's trying to put sand in our garri." Well, no, not at all really. So what is the point of this post, you wonder? The point is that the time spent in self-inflicting an orgasm and the money spent on buying condoms could be spent on doing something more productive: buying me shoes and bags (and this applies to both women and men). Walahi, I need them die 😀