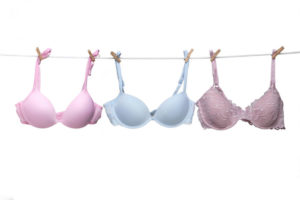 It appears I have a problem. I don't know when, where, or how it started, but it's definitely real. I don't know how many women do this, so maybe I don't have a problem after all. Maybe there are many of us who do this. Basically, this is my routine once I come home:
1.  Take my shoes off
2.  Take my pants (or skirt) off
3.  Take my bra off
And they all happen in the living room. After taking them off, I then proceed to put them where they belong. Except the bra. The bra usually ends up everywhere but the bedroom. As I type this post now, I'm looking at a bra on the coffee table, another one on the TV stand, and yet another on the dining table. Don't worry, I hide them when someone is coming over. For the rest of the day, I'm dressed in a tee shirt and underwear. Hello, comfort!
There is always great relief when the bra comes off. It's not like it bothers me when it's on, but when it comes off, I feel So. Much Better. And my breasts are thankful. So yes, if you pay me a surprise visit, you will find bras littered in/on strange places.
What's quite funny is that Igwe doesn't even complain. Having a bra sitting next to his pancakes and bacon is totally normal around here. And having one hanging from the arm of his couch is okay, too. I don't know why I treat my bras these way. Sometimes I have to come to the living room in the morning to pick my bra from wherever it's hanging out. Maybe I should start using it as a decorative piece. It'd be like a catharsis of some sort, no?
Am I the only one who takes off (and stores) her bras in the living room?
P.S. I don't leave my bras in the kitchen because I have a thing for clothes (or clothing items) smelling like food.