This is a sponsored conversation written by me on behalf of Olay. The opinions and text are all mine.
Look, I cannot lie to you. Summer isn't my favorite season. At all. It's too hot. Too humid. And too bright. Up until I came to America, I've always lived in places that had cool temperatures. Although Maryland has four seasons and most of them are cool, the heat of the summer just makes me forget all the times the seasons were nice to me.
Back in Nigeria, I learned that the morning sun was good for you, that early sun that was warm on your skin and easy on your eyes. What I did not learn was the impact of the harsh sun. I never, ever heard of sunscreen. Granted, I was only 15 when I left Nigeria, and I was a very sheltered child. Still, sunscreen was not a thing. Oh, that totally rhymed!
Then I came to America and I learned about sunscreen, but I learned the wrong information. I was told that it was a white thing, that black people don't need it. And I believed it. Again, that totally rhymed.
When I eventually learned that sunscreen was a people thing, not a black or white thing, I did not have the best experience with sunscreen. All the ones I tried were yucky. I always felt like I was wearing toothpaste on my face. So I just learned to start away from anything that had "sunscreen" or "SPF" written on it because looking pasty has never been in style.
But ladies, there's Olay! It's not the first or only sunscreen, but it is the bomb.com. Olay has several sunscreen options, but I'm telling you specifically about the brand spanking new Olay Luminous Whip Face Moisturizer with SPF 25. First of all, can we blush a little for the entire Olay Whips line? Nobody doesn't like a light, fluffy moisturizer.
The Olay Luminous Whip Face Moisturizer with SPF 25 has a light air finish that transforms cream to liquid on your face. Now, although the good people at Olay did not say this, but really, it made me feel like a superhero, like I could float and nap on a piece of cloud. It brightens your skin and makes it glow. And my people, I know that you know that I LOVE to glow. Remember that time I was showing off my glowing shoulders?
One thing that I absolutely love about this moisturizer is its pore-minimizing strength because I can see my pores, and I'd like to not see them so much. And one thing that Olay Luminous Whip Face Moisturizer with SPF 25 has over other sunscreens is its Active Rush Technology. This is a fancy way of saying that it holds and releases one thousand times its weight in hydration. In other words, this is some powerful stuff! Let's liken it to lifting a rock that is as light as a piece of paper. You get?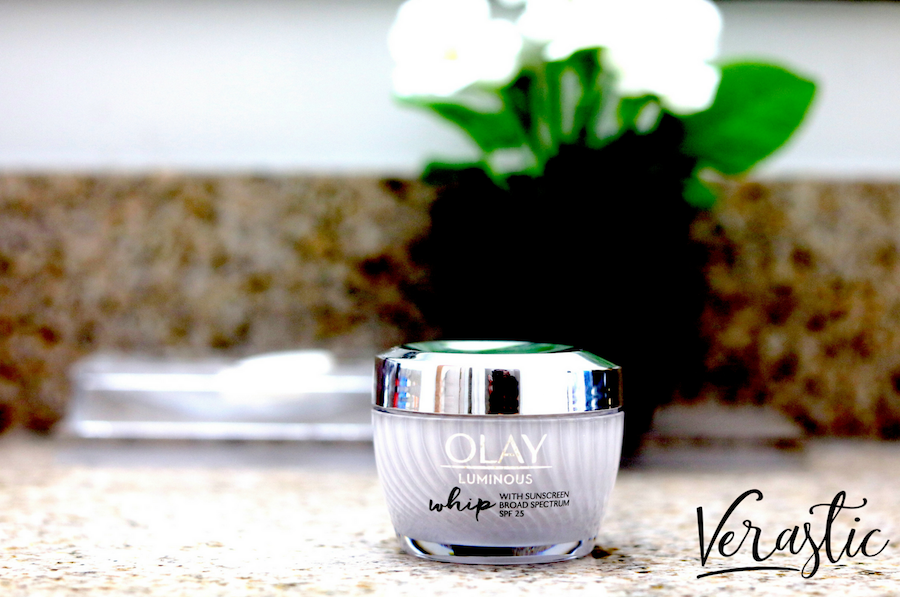 Oh. One more awesome thing about the Olay Luminous Whip Face Moisturizer with SPF 25? It's great on ALL skin types. So, yes, I am a believer. I use my sunscreen every day, and you will not catch me slipping. It's rough out in these streets.
Like I mentioned above, this is a new product from Olay, so it's possible that you have never tried it. If this is the case, please go ahead and try it already, so you don't have to take my word alone for it. Also, read other people's reviews and see that I do not come to you alone. I have an army.
So, what's your sunscreen story?