This post is part of the Verastic In Nigeria series.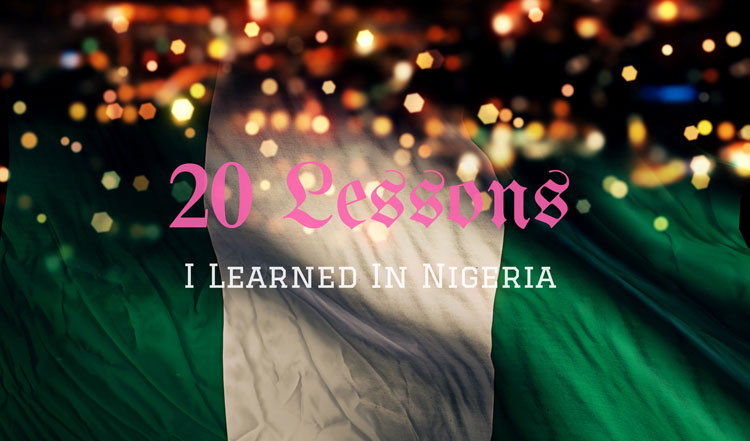 While in Nigeria, I had several AHA moments and several lessons were learned. Here are 20 lessons I learned – in no particular order.
1. Nigerians are hard workers. They will make any situation work. ANY.
2. People don't hate Nigeria as much as they love it.
3. We are an impatient group of people. Always in a hurry. To where? Even in standstill gridlock, drivers are honking.
4. There is suffering everywhere. I know I'm not Jesus and I can't fix everything and everyone, but what can I do? How can I help?
5. Just because I have little resources and time does not mean it cannot be done. It being whatever big dream is in my heart.
6. In spite of the system and in spite of the change, Nigerians are still generally happy people.
7. Yellow skin and accent from the abroad will take me farther. Unfortunately.
8. I have managed to make very good friends in Nigeria.
9. Appearing to have money is almost as important as having the money. It took a little time, but I was finally able to weed people out, the people who pretend to be what they are not, and they expect you to buy into what they pretend to be.
10. You will always be sized up and then treated according to that size.
11. Slow and steady does not win the race; it gets you left behind. Cool, calm and collected will leave you sleeping on okada. Gra gra is the order of the day. One simply cannot be too nice. You must shout and tear eye and bang tables and point fingers. And threaten. Don't forget to threaten. I tried to be my regular calm person, but people were not listening, until I was raising my voice.
12. Driving in Nigeria especially Lagos  is chaos. But it's organized chaos. There are less than two degrees of separation between vehicles, but they rarely ever hit each other.
13. Speaking of degrees of separation, there is none between people. I cannot count how many times I saw two strangers standing so close that they looked like one was entering the other.
14. Nigeria is a tough country to live in when you're not a big man or a big woman. With the prices of certain things, I could not stop wondering how people survive.
15. The amount of money may be a lot (example N-100,000) but the value is shit. Blink and it's gone. I learned this the hard way. If I had stayed one more week, I would have been broke.
16. Jos is less developed than I remember. Either that or I have been remembering Jos through rose-colored lens. You can't pay me to live in Jos again. Sad reality.
17. When someone says, "I'm almost there," could mean two hours away.
18. We, as a nation and as a people don't know our value. We suffer from severe inferiority complex. I was pained when I witnessed a Greek woman talking to a Nigerian man as if he was in her country begging for bread.
19. When it comes to professionalism, we still have a very long way to go. Even when you're paying someone to do a job, you may sometimes need to remind them that you're paying them. I found myself doing this a lot and offering to give the job to someone else. It was only then that they straightened up.
20. When I introduce myself as a blogger, I have to be clear that I'm a lifestyle blogger. Apparently, Nigerians generally think that all bloggers are gossip bloggers.
That's it for now! Two more days before the first episode of my weekly vlog goes live. Yippee!!