I'm not crazy about Whats App, and it's for the singular reason that anyone who has my number can send me messages. I'm not much of a chat person (which is why Facebook chat is permanently off); I'm more available on e-mail. Chat means that I have to respond right now and possibly have an entire conversation, but I'm not always in the mood. And the truth is that sometimes, people you don't know or care to chat with will send you messages.
So there I was yesterday minding my business when a Nigerian number kept sending several messages saying, "Hi." Rewind. Yesterday wasn't the first day; it had been happening for the past few days, but I never responded. Then after several Hi messages, the person now called me by my Igbo name. Aaaahhhh!
Only people who are close to me and people who knew me long time ago know my Igbo name. The name isn't a secret, but it's just not  too known, so when some random person on Whats App calls me by that name, I listen. So I responded.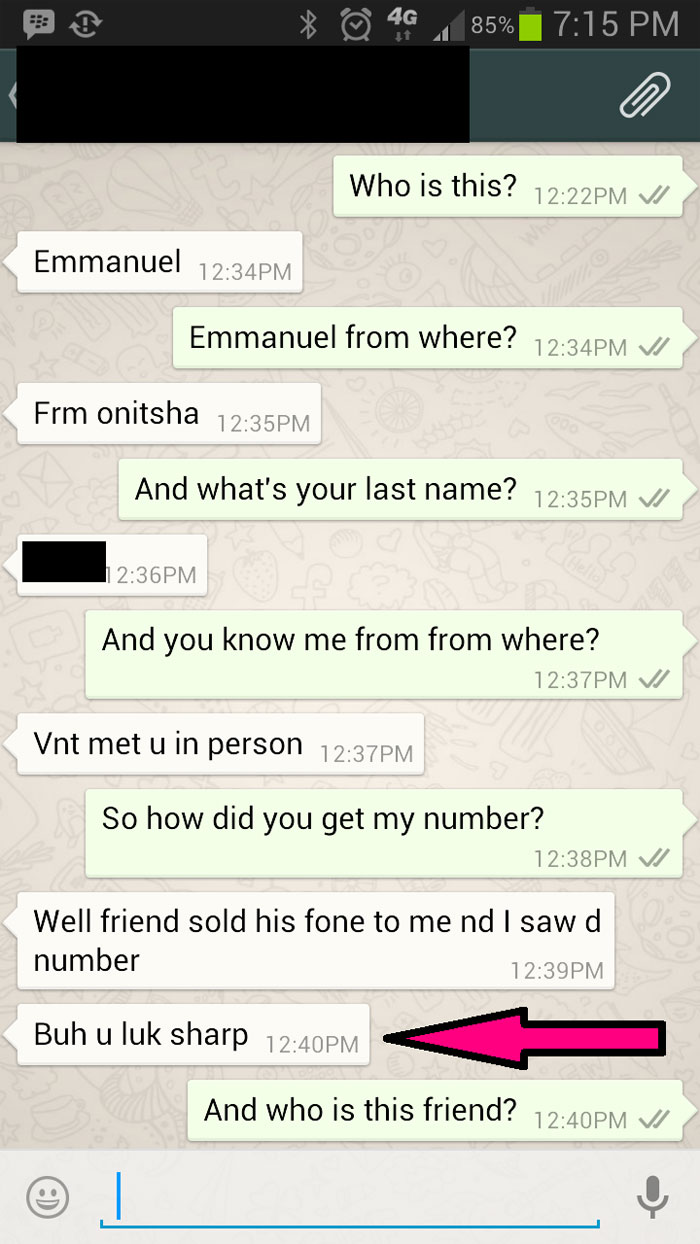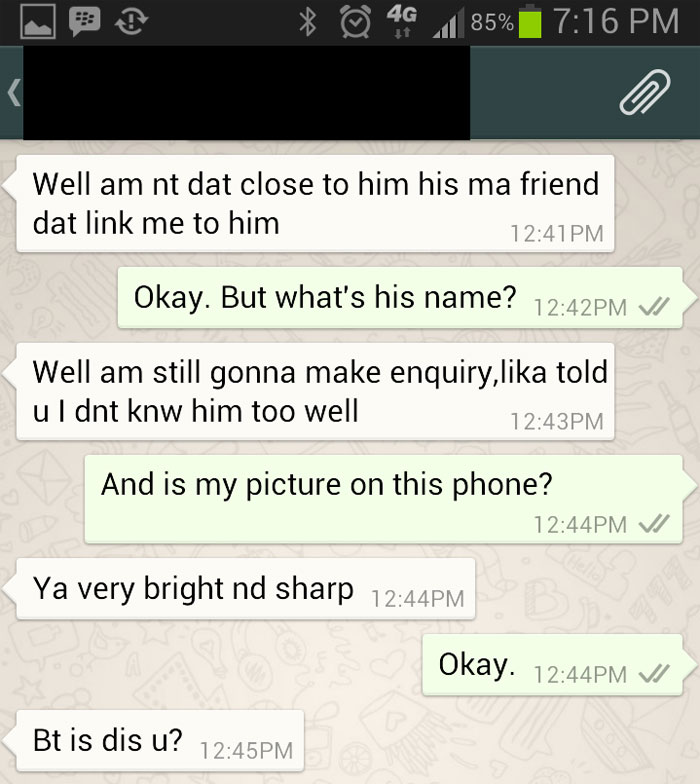 My people, see me see motorcycle oh! [I don't really know what this sentence means, but my mom always says it, so yeah]. How can you sell your phone and not delete the information in it? Now I'm wondering how many other people have my information.  And I like how he said, "Buh u luk sharp," like that just makes everything better.
I don't believe Emmanuel though. I think there's something he's not telling me.  Maybe he stole the phone. Maybe he is the someone who knows me but doesn't want to say. Maybe he's in cahoots with the person who knows me. I don't know. I just know that I was baffled yesterday. I mean, don't you clear your phone clean before selling it? And when you do sell a phone, do you sell it with the number, too? You'd take your sim card out first, no?
So Emmanuel, I don't know which kin yeye game you're playing oh, but I will not be a part of it (not anymore at least). After that bit of information, Emmanuel kept sending me more messages, which I ignored.  He wanted to know if I was Nigerian, if I was single, and if I lived America. All ignored.  He is now blocked.
Nigerian people, please warn yourselves oh! *pulling right ear lobe* Which kind ting be dis one? Abi did they send this random whats app-er from the village?