I notice that here in America, there are lists and classes of people in entertainment. For example, Angelina Jolie and Vivica A Fox cannot be compared or put in the same category. I don't know if the same rule applies to entertainers in Nigeria, but it sure doesn't feel like it.
So I was web-browsing the other day when I came across a post about Rukky Sanda's alleged cosmetic surgery. I couldn't care less whether she did it or not. As a matter of fact, I did not read further to know if she did in fact go under the knife, but something else got my attention: she was referred to as an A-List actress. Huh?
Thinking of Rukky Sanda, I cannot think of the name of one single movie she was in. I remember one where she played the part of Ramsey Noah's wife or girlfriend. Or was it his friend's girlfriend? I don't even remember the name of the movie or the story line. I just know that she was in it. And that's honestly the only movie I can remember of Rukky Sanda.
I know her name for two reasons: because (1) I follow Nollywood, most times. I like to know the names and faces of the people I see in movies and (2) because she's present on every red carpet event. That whole red carpet event thing is a discussion for another day.
I may be wrong, but Rukky Sanda is more popular for being on red carpets and photo ops than she is for being an actress.  She reminds me of Susan Peters who won an award for some acting-related thing. My most recent and most vivid memory of Susan Peters is when I saw a picture of her posing with her Blackberry Porsche on Linda Ikeji's blog. Perhaps, I have some selective amnesia here, I don't know.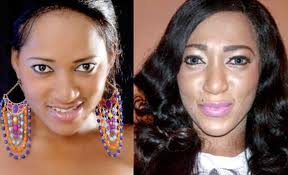 Notwithstanding. I will oblige you with the before and after pictures of Rukky Sanda's alleged surgery. The left one is e before one and the right one is the after one. The only difference I see is that the after one has contact lens …. and an untamed Blackberry flash was clearly responsible for that brightness.
She's a pretty girl though. No?
We can continue the conversation on Twitter.