When news broke out that P Square's video for the song, "Chop My Money" will be out in a bit, I was ecstatic. Why? Because that's my favorite song on their Invasion album. The original version features new singer, Mister May D – signed to P Square's record label, Square Records – but the remix features Akon, too. Continue to see the video.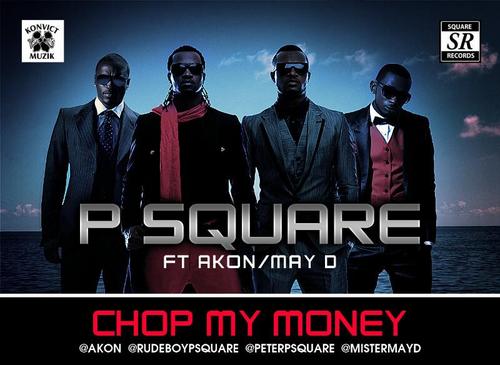 Anyway, the video made its debut yesterday, and P-Square did not disappoint me at all.  Before the video, I loved the song. I have a favorite part in the song, and I'm glad that they kept it. It's the part where Mister May D says, "The love wey me get for you na Jackie Chan … wa cha!" I have perfected my wa cha voice. Uju and Mr. Verastic can confirm. Their ears are probably still ringing.
That aside, I love the story the video tells. I especially love the humor in it. It's entertaining, engaging, and not at all making me want to throw up in my mouth. I was not confronted by half naked girls; that pleased me. Everyone did great. I'm writing too much. I should just let you enjoy the video already.
In case you're interested, the favorite part I love starts at two minutes and thirty seconds (2:30) into the video. And by the way, I absolutely love the way Mister May D made his entrance – in a hoodie, backing the camera —- oh, the mystery! Who could it be under that disguise? Darth Vader? Superman? Barack Obama? Who? Oh, it's Mister May D. Well, good, I like him too!
P.S. Did I ever mention how much P Square reminds me of my future confusingly identical twin boys? Okay, I'll shut up now.