First, it was Texas, now it's California. San Diego to be precise.  This whole week has just blazed through, and I am yet to understand fully what I have been doing with my time.  I'm working on a few things – big and small – for Verastic. And I will tell you more about them once they're ready to have their stories told.
I'll be going to California today – San Diego – for a dear friend's wedding – yes, another friend is getting married again. This is where you may want to ask, "Vera, when are we coming to eat your own rice?" To that, I say first of all that I may not even serve rice at my wedding. And secondly, I do in fact have an answer to that. But it is not yet time to answer it.
My flight is at 9am this morning, and I started typing this post up yesterday. Our friend used to live in Baltimore until he moved to California a few months ago to join his fiancee. Hence, a bunch of us are coming from Maryland. Igwe is even a groomsman. I think that literally half the young people in my church will be in San Diego this weekend.
This post will not be complete if I don't tell you about Funmie. My dear lovely friend, Funmie is coming to San Diego tomorrow (I'm getting there a day before her). She has bought her dress, shoes, neck pillow, beach wear, and shoes. She has also rented her room in the hotel and reserved the rental car she will be driving around in Cali. Now, there's only one little big problem: she doesn't have a ticket to California yet. Isn't this madness? As of 1AM this morning, Funmie did not have a ticket to California. But she swears she'll be there tomorrow. Okay, then. Maybe she's a witch and she plans to teleport herself there.
I , on the other hand, only started packing last night after much screaming and the-look-giving from Igwe. He was done packing some days ago. I'm really looking forward to being in San Diego; I've never been to California before. I hear the weather is nice and the boys are rich. What else does a girl need?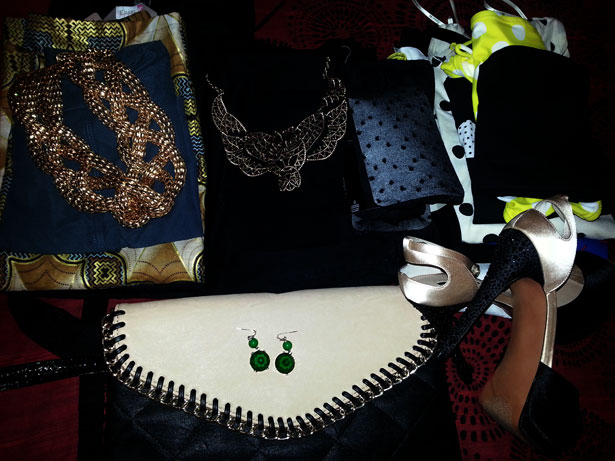 These are a few of the things I'll be travelling with. I absolutely love those emerald earrings on the clutch. 
It's actually my first time travelling with Igwe by air, so this should be interesting. All our other travels have been by road – obviously. To commemorate this special occasion, I bought us each a neck pillow. I like his a lot better than mine. I don't know what I was thinking when I picked that one for him. And he didn't even say no. Isn't that the polite thing to do?
I will try to update my blog while I'm gone. I apologize ahead of time if I don't.  Meanwhile, I will be active on social networks – Twitter, Facebook, and Instagram – so if you're on any of these networks, then, please join me! I am Verastic on all of them. Speaking of social networks, I just joined Pinterest – also as Verastic (yet to pin a thing). I hear bloggers should be there. I tried to resist the force, but I failed.
Oh, speaking of the force, hello iPhone 5! I did not have to read about it to know that I want it. I have had my current phone – Samsung Galaxy S III for a little over a month, I think. Now, I'm ready to sell it and get the iPhone 5. It's as close to brand new as possible. I've never dropped it, and it has this freaking hard case on it that feels like it's shielding half the phone from me. I don't think I'll be able to resist the urge to get the iPhone 5.  But trust T-Mobile, they might not be getting the phone till next year. What?!?! Looking forward to the unlocked version. T-Mobile is mad.
That's it, lovelies! Wish me a safe trip.
P.S. I hope to blog about the iPhone 5 tomorrow.
You might also like these posts