A while ago, I blogged about women and their need to shave their legs. I was saying this based on what fellow men had told me. They told me to tell women to shave their legs, and that was what I did via my blog. However, in one of the comments, I was alerted to the fact that Igbo men love hairy-chested women. Where are my Igbo men? Please defend yourselves.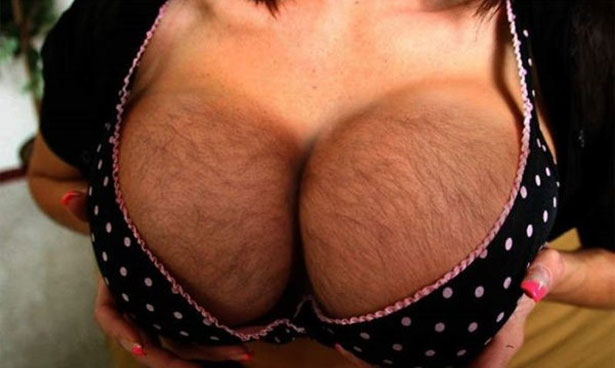 The reason why this is even of quite an interest to me is that I know one woman – I won't mention her tribe. Her chest is visibly hairy. Albeit, not half as hairy as the one in this picture, but I remember that on several occasions, I have heard her say that men love hairy-chested women. She did not specify that it is Igbo men who love this caliber of women, but I am now beginning to wonder how true it is that Igbo men – or men in general – love women with hairy chests?
If indeed men do love hairy-chested women, then I wonder what they do with the hair. Do they rub it? Do they pull it? Do they stroke it? Do they abandon the breasts and go instead for the hair? Do they pour melted cheese on it and lick it off?  Or do these strands of hair just work as another turn on for the men?
I like my man to have some hair on his chest, just a little. I don't want him to be as bare as I am. I want him to have some kind of facial hair, preferably a goatee. Igwe has the cutest little goatee. He won't appreciate me calling it cute and/or little.  The way he plays with it when he's in deep thought it laughable. You'd think there was a lot of hair there.  But alas, you can count them. There are seven and half to be exact.
But I digress.  I'd like to hear from the men. I want to know if you men love women with hairy chests. And if you do, I'd like to know why. What do you do with the hairs? How do they make you feel?