So Sunday night was BET Awards.  Honestly, prior to Igwe, I was not much of an awards-watching person. I would usually just catch the highlights the next day, but lately, I've been watching and enjoying them – even the red carpet! I guess I'm evolving. I'll try my best to keep this post short.
There were two dresses that I instantly fell in love with:
Rocsi Diaz, host of 106 & Park
When I saw Rocsi interviewing people in this dress (whose maker I do not know), I completely stopped listening and kept staring at her dress. I love it!! It's simple and sexy. If I could afford it, I definitely will not mind wearing this – after I've altered the plunging neckline, of course. Where am I supposed to keep my breasts while my neckline is plunging like this?  And to think, there are some people whose breasts are smaller than this, but I won't mention their names. They know themselves.

Bee-Yawn-Say! You can probably count how many times I've written about Beyonce on this blog. It's not that I don't like her; it's just that I'm not particularly crazy about her music. But you know what I do lover about her: her privacy! And, of course, her curves. Her beauty. Her money. It goes on.
This dress – whose maker I have not bothered to find out either – is beautiful! Everything about it is beautiful. The color. The length. And check out that slit! Oh, let's not forget the mirror-mirror belt.  I want it all: dress, belt, slit, shoes, and legs, darn it!
That said, no one can quite figure out – yet – if Beyonce's friendliness with Kim Kardashian is for real, or just for the sake of our entertainment. When fans saw the two seemingly laughing together at a basketball game, they (the fans) were apparently not very happy that Beyonce would be friends with Kim Kardashian. Apparently, Kim isn't on Beyonce's level.  So are they really friends?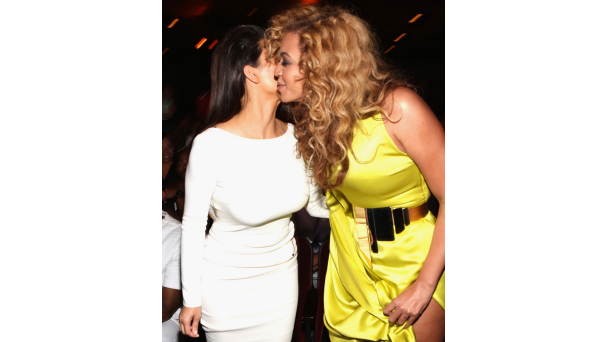 I don't know. I'm voting entertainment here.
Then, there was the issue of the real power couple. Kim Kardashian and Kanye vs Beyonce and Jay Z?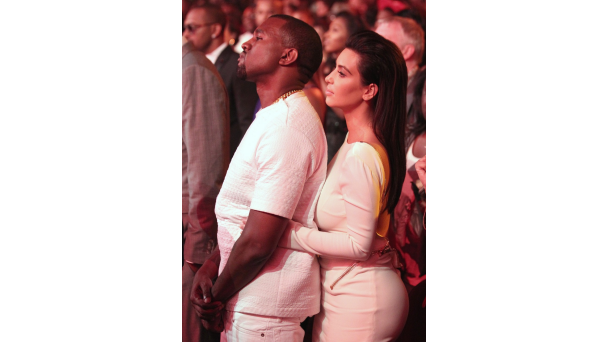 Kanye and Kim Kardashian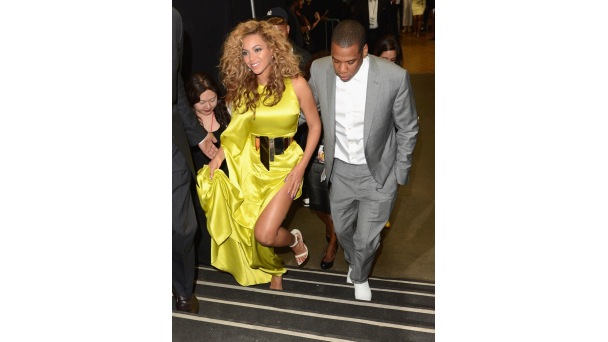 Beyonce and Jay Z
Errr. I'm gonna play it obvious and vote for Beyonce and Jay Z.