If you watched the Grammys yesterday, then you know that there were several memorable events. If you did not watch the Grammy's yesterday, then I'm sure there are two things you woke up to hear this morning: (1) Adele swept the place up by winning all six of the categories she was nominated in, including Album of the Year and Artiste of the Year and (2) Jennifer Hudson paid a tribute to Whitney Houston by singing, "I Will Always Love You." Keep reading for more … videos included.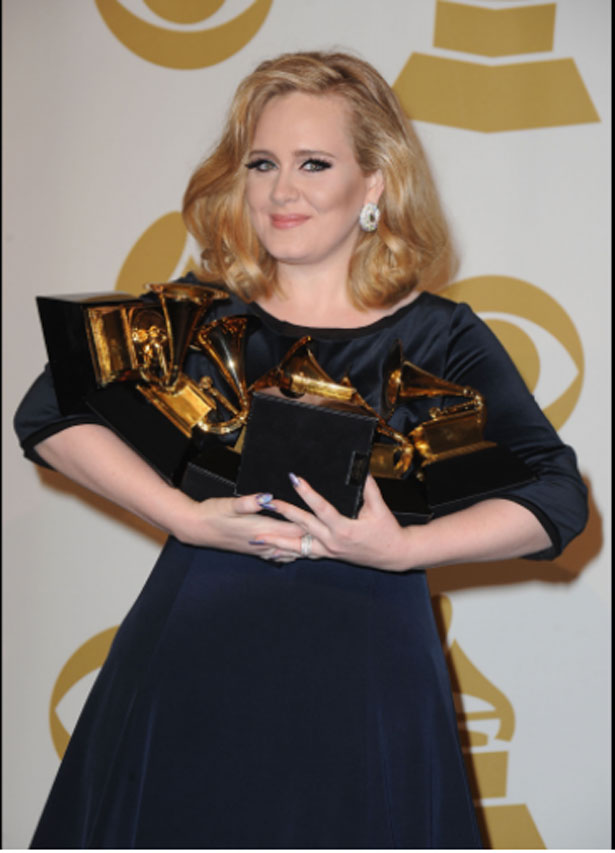 My favorite performances were from Adele and Bruno Mars. Taylor Swift did a good job too, no doubt. Chris Brown's performance was forgettable to me, and so was Rihanna's too. Just my opinion. Most memorable performance (after Adele's) was Nicki Minaj's, and it had nothing to do with how good it was because it was anything but good. Her performance involved a priest, a video, and an excorcism. No doubt, the staunch Catholics will be having a field day with the video today.
I may be wrong, but it feels like Nicki tries so hard to be like Gaga. She wants to break boundaries and go where no one has ever gone. And that's usually a good thing — if you can pull it off. Did Nicki pull it off last night? Not to me. What she accomplished is giving me Reason Number 74086 why I don't care so much for her. I wish I could post a video of it, but all the good Grammy videos have been blocked due to copyright issues.
Adele made it all look so easy. Am I the only one who thinks she's absolutely beautiful? And from the little I've learned about her, she seems very real, too.  For the past few months, she has not sung due to a problem with her vocals. She had to have surgery for it. And yesterday was her first time singing since then. She sounded beyond beautiful. There's no video of this either – no good one anyway.
Jennifer Hudson paid a tribute to Whitney Houston, and this time, there's a video — in HD! I suggest you watch it shap, shap before the powers that be block it. She was criticized for not hitting the high notes like Whitney did. But maybe she can't. Maybe it's out of her range. If she had gone there and failed, she would have been laughed at too. I think she did a fabulous job, especially considering that there was practically no prepping time as Whitney just died a day before the Grammys.
I'm sorry I don't have pictures of who wore what. Luckily, there are many, many blogs that already have that. However, I could not help but show pictures of Nicki Minaj and Lady Gaga. I don't know who Nicki was attempting to channel: Little Red Riding Hood or Lucifer. Whatever it was, she needs to fire her stylist for (1) attempting to be as peculiar as Lady Gaga and (2) for failing at it — woefully. If she is her own stylist, then she needs to fire herself too.
I bet when Nicki showed up and saw that Lady Gaga was looking as close to normal as Lady Gaga would, she said, "Damn, Lady! You coulda given a sistuh a heads up to leave the crazy outfit at home this year."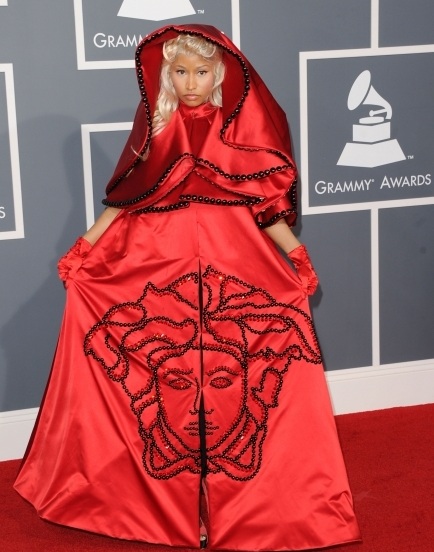 Nicki Minaj at the 54th Grammys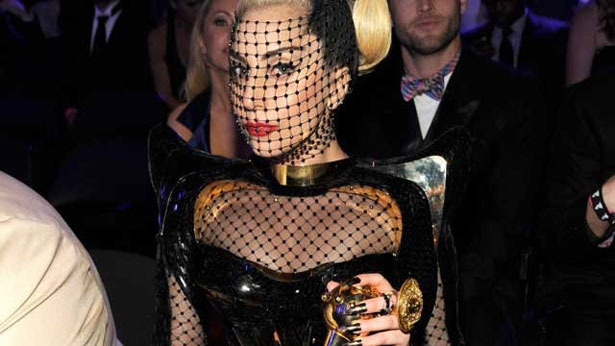 Lady Gaga at the 54th Grammys
And now, I leave you with Jennifer Hudson's tribute to Whitney Houston. May her soul rest in perfect peace.