Last weekend on Verastically Speakin,' we had a random show. For those that are unfamiliar with the show and/or its Randomisity series, the random show is basically true to its name. We dedicate two hours to talking about anything and everything. It can be something that I think of, something that my co-host thinks of, something that the callers think of, or something that people on the social networks suggest (chat room, Twitter, Facebook, etc). On that note, Mercy Johnson's impending wedding took about thirty minutes of our time. Keep reading.
To my non-Nigerian readers, Mercy Johnson may be a nobody to you, but if you care to know, she is a famous actress in Nigeria – one of the most popular ones – who is loved and hated by many for so many reasons. Men love her breasts. Women hate her breasts. Sometimes, I think I want her breasts. There are other factors, of course, like her acting. Somehow, the breasts manage to precede that. Consider her the — oh, never mind. I cannot think of what American actress to compare her to. Find her on YouTube and make your own conclusions. Anyway …
The reason why Princess Mercy Johnson took up so much of our time is because as of Saturday last week, she was still engaged to be married to Prince Odi. The big deal? Well, Prince Odi is allegedly married to Lovely Okojie.  Lovely says they are married. Prince Odi says they are divorced. Two different people. Two very different stories. Clearly, one of them is lying. But which one? Only Lovely and Prince Odi know the real story behind their marriage and divorce. But as it turned out, the society of Nigerian women – whoever the hell they are – were threatening to demonstrate if Mercy went ahead with the wedding this weekend.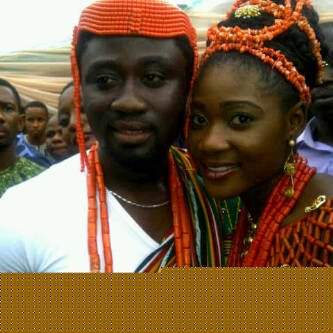 Well, as you can see from the pictures above, Mercy haf marry. And I heard nothing of a demonstration. Correct me, if I am wrong, please. During the show on Saturday 9August 20th), I argued in favor of Merch – kind of. No, I am in no way supporting her or anyone else marrying a married man – if indeed Prince Odi is married. What I am against is the society of Nigerian women butting into her wedding. Their reason for the threatened demonstration, they said, is because Prince Odi is married, and no woman should be marrying him IN CHURCH until he is divorced. I have a few problems with their stance.
1. What does church mean? The building? The Pastor? Or the religion? Would they have felt better if she was scheduled to be married on the beach by the same Pastor? Of if she was scheduled to be married in court? And why did they not complain about the traditional wedding? A wedding is still a wedding, no?
2. There are many men who are married to more than one wife. Why did the society of Nigerian women not demonstrate against those marriages?
3. Although I do not know this for a fact, I am willing to bet all of the money in my wallet [currently one dollar] that most of these society women have cheating husbands. Why aren't they demonstrating at home?
4. If Mercy Johnson is indeed a certified second wife, why is she the first person that these women are going after? I bet some of them are second wives, too.
My point is, I personally believe that this alleged attack on Mercy Johnson's marriage/wedding is actually an attack on Mercy Johnson. Only the women know why they're doing it. Maybe it's because some of their husbands lust after Mercy Johnson. Maybe it's because she has something they want (beauty, fame, money …. uhm, Prince Odi???). Heck. Maybe they just want her breasts.
Whatever the case might be, I smell a rat from everyone involved: from Mercy Johnson, from Prince Odi, from the society of Nigerian women, and from one Miss Vera Ezimora. Seriously, what is Vera's own in this wedding sef? Common picture of cake sef, they did not send to me.
That said, you may listen to the random show I had on Saturday HERE.
P.S. Funmie completely disagreed with me on the Society of Nigerian Women thing. She said they're right for threatening to demonstrate against a church wedding. I said Funmie is just playing religion. You decide.
P.P.S. Anyone else notice that Prince Odi colored his nose to match Mercy Johnson's face in the traditional wedding picture? I'm just saying. 😐
Picture source: Twitter (where else, right?)