First of all, thank you to everyone who answered yesterday's question from a Verastic reader. If you haven't, it's not late yet. And for those asking if I am now living with Igwe, that is not what I sent you there to read oh! Ehen, so go and answer the reader's question. That said … ehm … this past Friday, Igwe insisted that we go ring-shopping. We went once before, but it wasn't official. We were just kind of in the area, and there happened to be jewelry stores there. This time, we made a deliberate attempt to go ring-shopping. We went to Radcliffe Jewelers in Towson, a big jewelry store that seemed to have thrice the amount of items as other stores we went to.
When Ken (an employee … and maybe part owner?) finally came to talk to us, we told him what we came for. So he asked the natural question, "Do you have anything particular in mind?" To this, I was more than happy to whip out a page from my wedding book. Let me tell you about this wedding book. Several years ago, I worked in a bridal shop, and tons and tons of bridal magazines were sent there like every other day. I'd flip through them and make a mental note of what I liked or did not like.
Finally, I decided to rip off the pages of items or ideas I liked and stick them on a blank page which I arranged chronologically – according to the dates I got them – in a black binder. At the time I started keeping my wedding book, I did not even have a potential boyfriend. But I figured I might as well do something with the magazines. I stopped working there two years later, and my wedding book has not been updated since then. But there is a ring in my wedding book from De Beers that I absolutely love. It's dated for October 12th 2008 (the day I put it in my wedding book).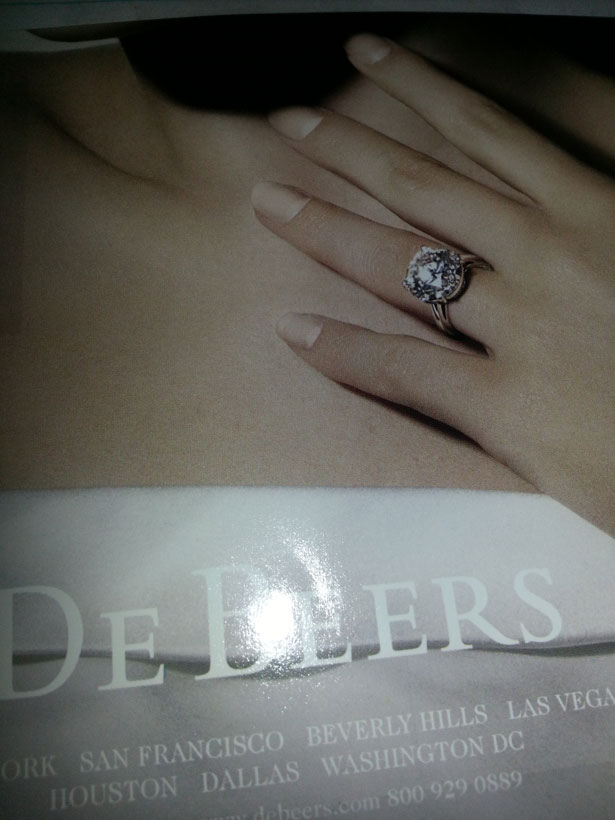 Fast-forward back to the present. When Ken asked if there was a particular type of ring I had in mind, I was quick to show him this particular ring. I was sure to tell him that I was not implying that I had to have a ring from De Beers, nor did I have to have one exactly like the one I brought. He understood. But just for the sake of curiosity, I asked, "So give me an estimate, how much do you think that this ring costs?"
After observing it for a couple of seconds, he said – very casually, "Judging by the shape, the design, and the size of the stone, I'd say roughly around $120,000."
Ehn?!?!?!?!?!?!?!?!?!?!?!?!?!?!?!?!?!?!?!?!?!?!?!??!?!?!?!?!?! [Please note the number of punctuation marks, as even this is an understatement of my shock). One hundred and twenty thousand American dollars? For what? Maka why? As in N18, 000, 000 – eighteen million naira? On this one ring that I will wear on one finger? For what reason? How dare you?!
Hmmmmmm. I laughed nervously with sweat appearing in places I didn't know I could sweat. And all of a sudden, I felt queasy, like the room was suddenly spinning. And I thought to myself while laughing nervously, this man, you're making me funny.
My friend, give me back my picture!
Okay, forget about the picture I showed you. Let's work strictly on our budget. I said.
What's your budget? He asked.
Igwe said a number.
I said, "Err, no. That's not the budget. Make it lower than that."
Igwe said, "No, we can work with my budget."
Me, "Nope! Absolutely not. If you're willing to spend that much, let me pick a ring and you'll give me the change."
At the end of it, I said, "As a matter of fact, I don't want to do anymore. Let's go home. All this ring-shopping thing is making me tired. And hungry. And angry." So we quit and went to Cheesecake Factory for a nice dinner, devoid of all talks about rings. I might just be sporting a rubber band on my finger when the time comes.
I was sure to remind Igwe that this ring-shopping thing is really his job; I should not be coming along. He's supposed to do it alone and suffer it alone. In his defense, he did not want to buy me something that I wouldn't wear. Point taken. But still.
There were too many options and too many possibilities. All the ones I saw and liked cost at least $20,000. And there was more of that nervous laughter each time Ken told me the price. I even asked him if they would be having a Black Friday sale. I urged him to have one. Do a sale for 95% off and open the doors at 3AM. We will be here! No chance of that, by the way.  As far as I am concerned, all ring-shopping has been suspended. If Igwe wants one that badly, he can go get it himself. I quit!
Yes. I know you have questions, like why the heck are you and Igwe ring shopping? And is there something you're not telling us? Of course, there is something I am not telling you. But I will tell you everything —- later. Today is not the day