Will Smith was in Moscow promoting his new movie, Men In Black III when a Ukrainian reporter kissed him on both cheeks, but the kiss may have been a little too close to his mouth. So Will Smith pushed him and then added a back-handed slap. I'm not mad at either the reporter or Will Smith – let's pretend for a second that my opinion counts – but I do feel very sorry for the reporter.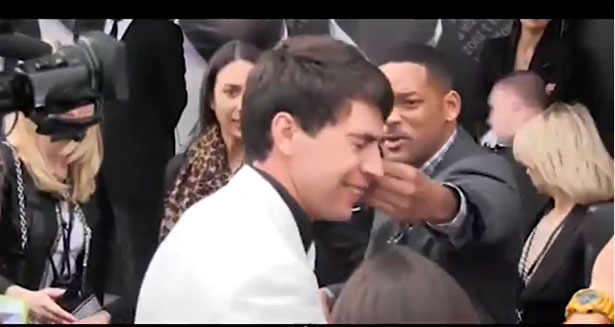 I don't think he meant any harm, and I certainly don't think it was a gay move. Kissing is probably part of his culture (or perhaps, his signature as a reporter? [At this point, I am too tired to google this, so please, do so and let me know]. But to Will Smith, as a Black all-American man, that's just gay. Straight American men do not go around giving or receiving kisses from fellow men. It's ironic that a country like America where let-the-gays-be-gay is the order of the day, people still run around very homophobic. The catch is that they just don't know it yet.
Anyway, I feel very sorry for the reporter. He was clearly embarrassed and probably caught off guard by the shove and slap, just like Will Smith was equally surprised by the kiss. Continue to watch the video for yourself.