Seems like this weekend recount thing is becoming a regular. Let's see how long it lasts. How was your weekend? Mine was fun … and exhausting.  As usual.
Friday: I spent the day thinking about how I will MC Motun's and Daniel's wedding on Saturday. What to wear. How best to wear it. What to say. What not to say. When to say. What make-up to use. Visible but not loud. To sing or not to sing (Yes, I sing when I MC/Host events).
Saturday: The D-Day. I was anxious and excited, but in a good way. Since I did not succeed in buying the type of dress I had in my head (and I had absolutely no kind of dress in my head), I decided to pull this out of the previously-worn-trads-that-can-be-worn-again box. Biggest inspiration to wear this dress: it has over sized pockets that can hold the microphone, my pen, the reception program, and my business cards.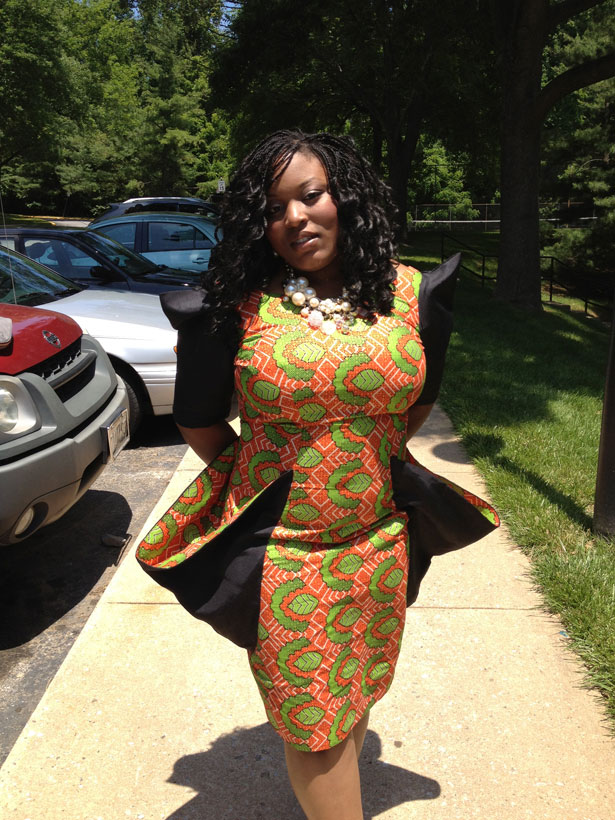 This was outside the house before we left for the occasion. Igwe bought me the necklace on Friday, and I was reluctant to wear it because I didn't want my necklace to be bigger than the bride's.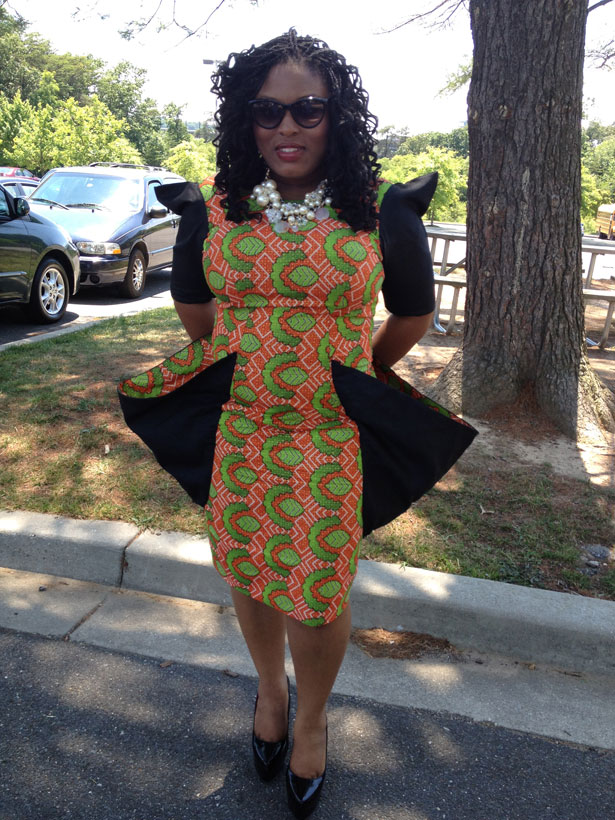 These pointy-edge glasses (I'm sure they have a name, but I don't know it) were inspired by the pointy sleeves of the dress (This, too, probably has a name. But I don't know it either). That said, it the temperature was hotter than it looked. 96 degrees with a chance of hell. Not cool – literally!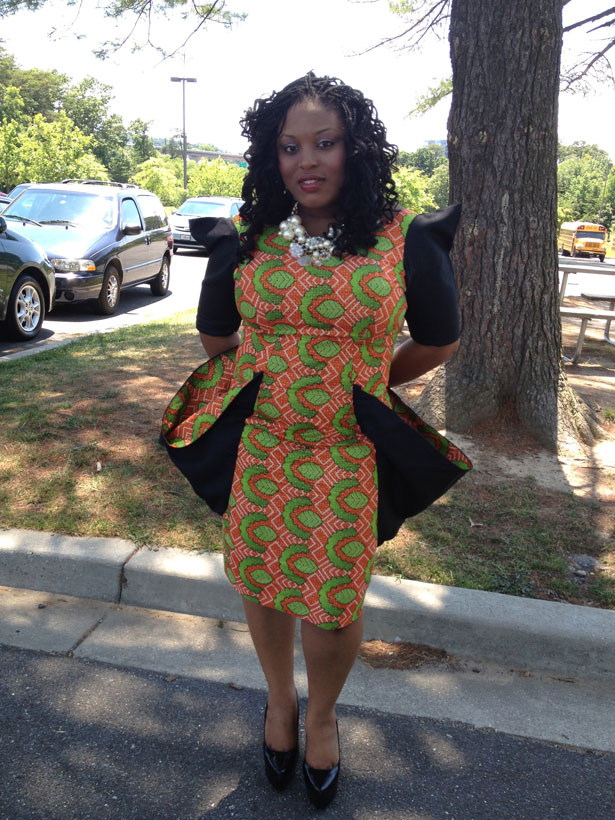 Because I know you must be curious about what I looked like without the glasses. Sure, the first picture has me without glasses, but this one is different. It was taken under a tree!
The wedding was great. Motun, the bride looked the most beautiful I had ever seen her. She was glowing. Igwe and I were sitting at the back of the pew, him at the edge of the bench. We both weren't paying attention when someone directed him to get out of his seat. I followed him. I don't know what Igwe was thinking, but I thought we were being ushered to another seat, one closer to the rest of the congregation. Wrong!
Apparently, we were being directed to go for Thanksgiving = dance to the front of the church, put some money in the basket, and possibly hug the couple. I was halfway into the walk before I realized what was going on. Then I started dancing. And then I realized, oh my God, I have no money in my hands. Oh my goodness, people are looking. Oh, my goodness, we're the first people. Oh, my goodness ….!!!! I was ready to demand a dance-over! Then I remembered it wasn't my wedding.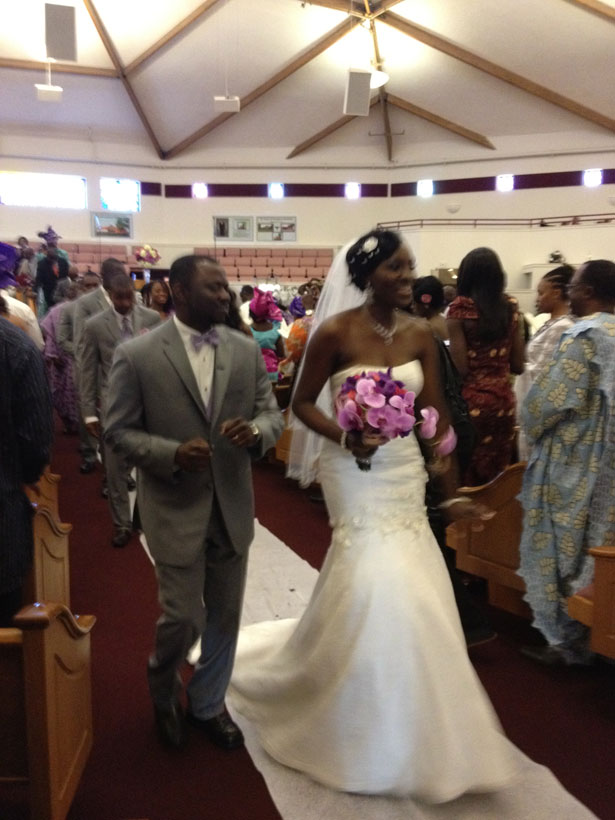 The happy bride and groom, Motun and Daniel. Unfortunately, we don't have a better picture of them

[Blame it on Igwe]. He has an iPhone. I have a Blackberry. I didn't bother insulting myself by bringing out my Blackberry.
However, going for Thanksgiving unprepared was the good part, considering what I had coming. After the wedding ceremony was over and everyone was  making their way downstairs for the reception, Igwe and I were one of the last people to leave. But while we were leaving – and I still don't know how this happened – my left foot twisted. While I was trying desperately to hold on to Igwe, my right foot couldn't take it anymore, so that was how I came crashing on the ground.
Bad news: People saw me.
Not so-bad news: Not everyone saw me.
As a woman, when it concerns heels, one of my biggest fears is falling off the heels — in front of people — on my butt — on the day I have to host a friggin event. Alas, I now know what that feels like. Oh, ye, five-three-quarter heels, how thou hast reduceth my bride price!
When I eventually started hosting the event, I had to give the bridesmaids a heartfelt shout out for wearing heels all day and not falling off. Though they were all smart enough to not wear five-three-quarter heels.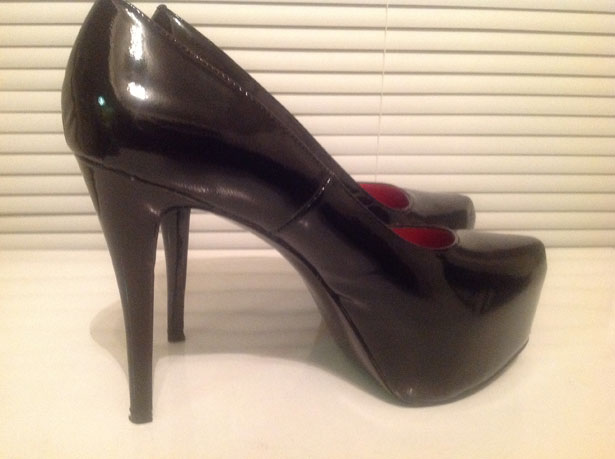 Irony is that I wore these shoes because of how comfortable they are. In spite of the fall, they really are comfortable. Just that they're apparently not made for walking.
At the reception, I was very cautious not to fall. Thank God I didn't. Everything went great. Music was great. Decor was beautiful. Coordination was great. Most of all, the couple looked undeniably happy. By the way, shout out to FTK Konnect, event planner extraordinaire for planning a beautiful wedding. It was an invitation-only and adult-only reception (great concept!) and everyone needed a place card to know their table. I forgot to take a picture of it, but Igwe's place card read, Igwe.
It wasn't until I came home that I realized how hungry and exhausted I was. My energy was depleted. All day, I had only eaten a slice of bread and a piece of meat from Igwe's plate at the reception. By the time I was done taking a shower and eating, I felt like I had been drugged with an industrial sleeping pill (have no idea if such a pill exists). I went out like a light.
Short clip of Motun and Daniel dancing into the reception hall, recorded by Igwe.
Sunday: I skipped church. But when I woke up and stepped my left foot on the ground, fear catch me oh! My ankle wasn't broken, but I sure did feel a pang of pain. I limped around for a couple of minutes before I got used to it. No one had to tell me to wear slippers to my Sunday event. Funny how I felt absolutely no pain on Saturday. I'm glad I didn't. That would have certainly interrupted my hype.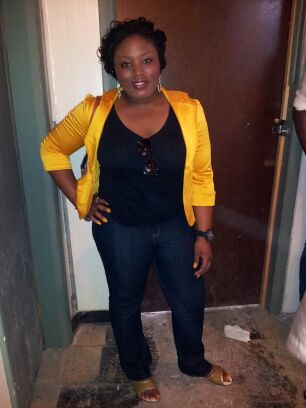 At the backyard of this place I had to be … proudly wearing my olive green slippers.  And no, I was not trying to match my nail color to my blazer.
P.S. No, I do not intend to stop wearing these shoes. Neither do I intend to stop buying shoes that look like it.
P.P.S. No, I do not intend to fall again either. Thank you very much!
P.P.P.S. What I need now more than anything is to practice on more of these shoes. Please notify me if you are interested in sponsoring this great movement

P.P.P.P.S. Igwe wants me to mention that his iPhone was solely responsible for all the nice pictures, something my Blackberry cannot dare. All hail the iPhone.