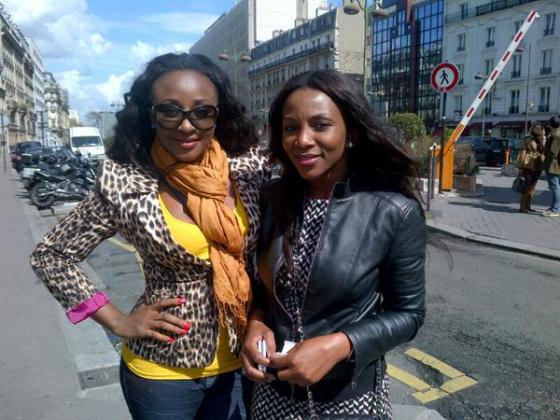 Check this picture out. Before you click the button to read the rest of the post, I want you to mentally assess the ladies in it. Pick out every detail that is wrong or could be better. For those who may not know, the ladies are top Nigerian actresses, Ini Edo (left) and Genevieve Nnaji (right). Okay, done assessing them? Now, read the rest of the post.
I saw this picture on Linda Ikeji's blog on Saturday. The ladies were in Paris for Stephanie Okereke's (another actress) wedding, and I guess they were just out on the street enjoying the scene, maybe shopping. Curious, I decided to read the comments. I'm paraphrasing here, but this is what some people had to say:
1.  Genevieve has only one hairstyle. In fact, she had the same hairstyle at Mercy Johnson's wedding.
2.  Ini Edo's outfit sucks. It has too many layers.
3.  Ini Edo's hairline is receding.
4.  Ini Edo's forehead is too big.
5.  Ini Edo is going bald.
6.  They'll both look nicer with less make-up (what make-up?)
7.  Ini Edo has street girl clothes, and she's overstretching her lips.
8.  Genevieve is overrated and not polished enough. Next to your average Black girl in Europe/America, she's just plain.
9.  Ini Edo's forehead leaves more to desire. She has become Iya Eko at a young age (someone please define Iya Eko for me)
10.  Genevieve is looking old. She looks like Ini Edo's aunty from her mother's side (could it be her father's side though?)
Honestly – and this is coming from someone who is not crazy about Ini or Genevieve – I find absolutely nothing wrong with these ladies. I think they both look beautiful. And in spite of the criticisms of Ini's outfit, I absolutely love it. It's colorful, and it shows her curves. What else can a girl ask for?
Now, the issue about the forehead, I gotta admit, it's funny, but what is the poor girl supposed to do about the size of her forehead? So this makes me wonder, why is it almost impossible for us (women) to be nice to other women? If we do not criticize something about them, it'll make us lose some of our womanhood. Why do we feel the need to pick at everything about a fellow woman? She's too big. She's too small. She's too short. She's too tall. She's too yellow. She's too black. Ini Edo's outfit is too loud. Genevieve's outfit is too safe. Ini Edo's hairline is receding. Genevieve's hairstyle is too predictable. Ini Edo needs to go have children already. Genevieve needs to get married. Really???
This is why I sometimes think we are our own enemies. Of course, we like to pin it all on the men, just like we like to blame the devil for everything, but I sometimes think that women are more wicked to their fellow women than men are. This picture is only a light example. We do worse to each other. And I wonder when we will eventually figure out that one woman must not die for the other to live.
P.S. I never even noticed Ini Edo's forehead until these comments. Great work, ladies!
P.P.S. I hope this post serves as a warning to all men who may be in polygamous relationships or may be thinking about being in one, it is highly homicidal – not to mention, flammable – to have two women in the same position, fighting for the same prize. My people say that when two elephants gather to fight, it is the ground that suffers. Consider your life – and your penis – to be the ground here.