Ever since I started writing publicly about seven years ago, I have gotten used to – and sometimes, even welcomed – negative comments. Some of them are there to tell me they do not agree with what I'm saying. Some of them say I do not make much sense, if any. Some say I don't know how to write; and some say that I am just plain stupid.  Okay, then.
So about two weeks ago, I wrote about the Gojo Handsfree device and how I found it to be absolutely ridiculous. And I only said this because, well, it is indeed an absolutely ridiculous-looking device when you use it. Apparently, Gustav did not agree with me, and he was not afraid to comment it — several times.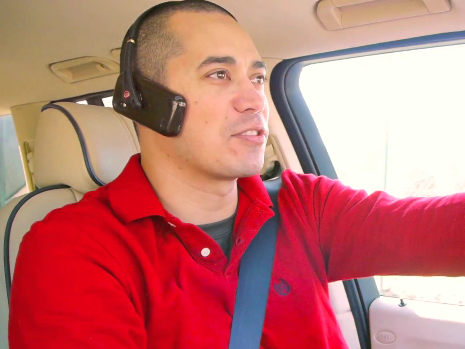 The famous GoJo device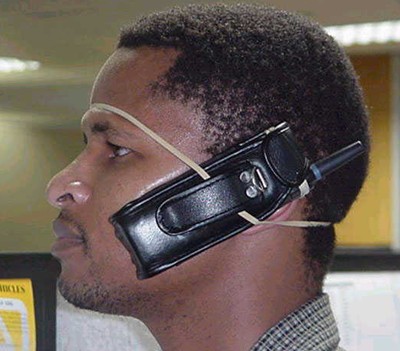 … And this is what I likened it to.
The issue here is that I have reserved my right to find this equipment ridiculous. And Gustav, he has also reserved his right to tell me why I'm wrong and not a real journalist. Let's ignore the fact that I have never described myself as a journalist. Below are a few of his points. The words in italics and parenthesis are my responses to him.
1.  "Americans only care how something looks. Tthey don't care how well something works…" (Soooooo … you're saying we should buy in spite of how ridiculous we'll look with it … and in spite of the wire, easy-to-conceal bluetooth earpieces we have all over … and also in spite of the lack of safety in having a phone next to your face like that?  Damn Americans.")
2.  "Vera you are obviously not very intelligent and not real journalist…" (You're almost right. I'm not a journalist at all.)
3.  "Bluetooth earpeices do NOT work. Unreliable, complicated, programing and bad sound. People cannot hear you on a bluetooth, they need to constantly be charged…" (Mine has been working since July 2010 with great sound. And what complicated programming? Now, guess who's not intelligent?)
4.  "You have more chance crashing your car while fumbling with a blue tooth as much as being on your phone…." (True. Much better to use both hands and fumble with a GoJo than use one hand to fumble with a bluetooth.)
5.  "And what lack of safety having phone next to face? If you referring to "radiation" lol that is a myth. And you HOLD your phone next to your face anyways? And bluetooth has MORE radiation than your phone…" (How can a bluetooth have more radiation that the phone when the radiation is a "myth" anyway? And no, I do not hold the phone to my face. I have a bluetooth, remember?)
6.  "Perhaps you would be one of the same people who thought seatbelts were ridiculous in the early 70′s? Many people (like you) did not understand seatbelts and thought they "looked" silly lol." (Would this be a good time to tell you that I wasn't around in the 70s?)
7.  "This is a convenient device that you could easily wear in the privacy of your home so you could talk on the phone while doing laundry, changing infant, doing dishes…" (But the guy in the picture above – and the video – is not in the privacy of his home — unless he drives in it).
8.  " You use "wire" and bluetooth they are not hands free…." (A bluetooth in not handsfree??? *insert very, very confused face*)
Of course, I know I did not have to respond to Gustav or dedicate a whole post to him, but it would be totally unfair to keep all this fun away from you. Read the original post and comments HERE.