I'm going to be speaking with one of my favorite co-hosts, Ofili. You must know about him already. If not, prepare to find out. Ofili is an international motivational speaker and author — and an award winning one at that. Normally, you have to pay to listen to Ofili speak, but I'm bringing him to you on The Verastic Show on Gidilounge Radio. Free of charge! Of course, you are welcome to send me small money via PayPal. Continue to find out more … about the four books he's giving away — for FREE — including his newest book, How Laziness Saved My Life.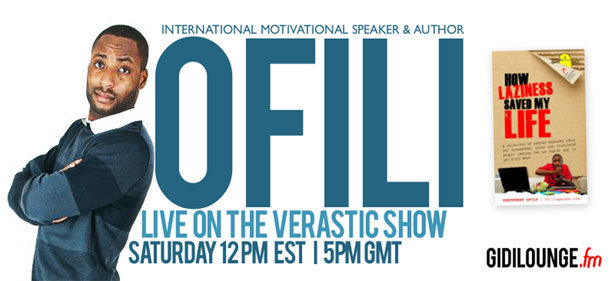 Ofili and I will be discussing love and money, and how one may affect the other – or not.  It's going to be a very engaging topic with lots of calls to take. So I beg you, dear listeners, call on time. And if I miss your first 17 calls, please do not hesitate to place the eighteenth one.
The show is this Saturday (tomorrow), April 28th 2012 at 12pm Eastern Time (5pm Nigerian Time).  It will air on Gidilounge Radio, which you can listen to via web or via mobile apps. For Blackberries, download the app at here. For iOS (Apple products), get it from the App Store. And for Android, get it from the Android Market. All apps are free.
Call in via Skype (add gidilounge) or via the toll free number: 1.866.566.4434
Questions or comments? E-mail radio@verastic.com
Connect with us on Twitter:  Ofili, Gidilounge, and me – your one and only.
Winning the book is easy. You just have to listen for the instructions. His new book is so new that it still has the warmth of the printing press. So what are you waiting for? Set your reminder/alarm. Tomorrow. 12pm Eastern ~ 5pm Nigerian Time.
Do you really want to miss Ofili? No, you don't. Talk to you tomorrow!
P.S. The show has an active hash tag on Twitter. It's #TheVerasticShow. Please free very to use it. Thank you!!