Though my last iCook post was with potatoes and chicken, it is a coincidence that this one is also with potatoes and chicken. However, this is a completely different meal – both in taste and in preparation. For starters, I didn't make the recipe up myself. I followed a recipe from McCormick.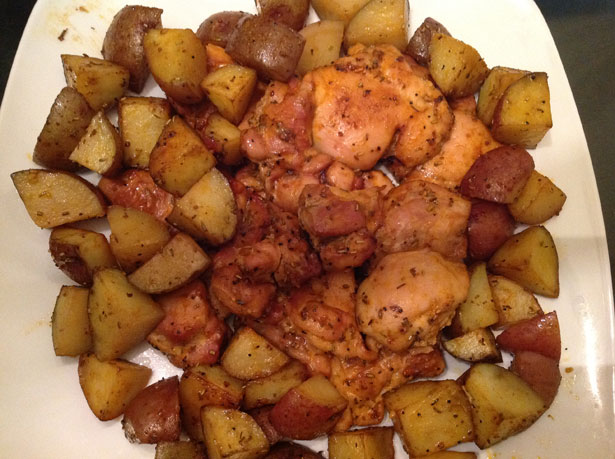 Before I cooked this meal, I had never tasted it. In fact, I had never cooked with Rosemary, so I did not know what to expect. I only likened Rosemary leaves to thyme leaves (they do look alike), so I went in with an open mind, literally.
Ingredients I Used:
1.  2 teaspoons of paprika
2.  1 1/2 (one and half) teaspoons of crushed rosemary leaves
3.  1 teaspoon of minced garlic
4.  1/2 (half) teaspoon of coarse ground black pepper
5.  2 tablespoons of olive oil
6.  1 tablespoon of salt
7.  8 boneless pieces of chicken thighs (skinless too)
8.  1 1/2 (one and half) pounds of small red potatoes, cut into cubes. Don't peel the skin off. I believe I used six pieces, maybe eight (pictured below)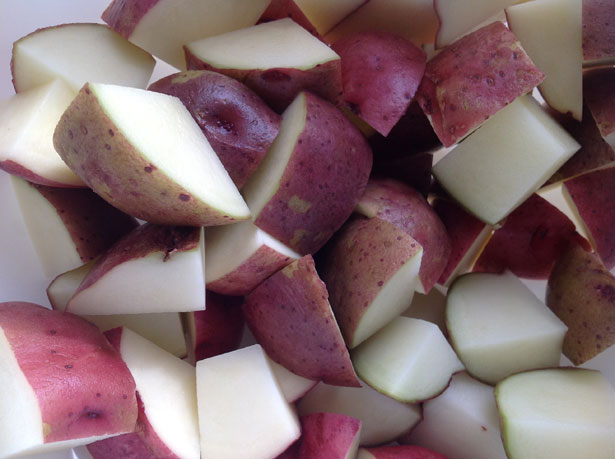 Red skin potatoes, washed and cut into cubes.
It's extremely easy to prepare. Prepping time is about 15 minutes, and cooking time is about 30 minutes. The taste isn't your typical spicy Nigerian food. Compared to Nigerian food, the taste is rather bland. Left to me, it isn't something I will cook too often, but Igwe ate five and half pieces out of the eight pieces. He loved it. I ate two pieces.
Cooking:
1. Mix the oil and spices together in a large bowl (pictured below)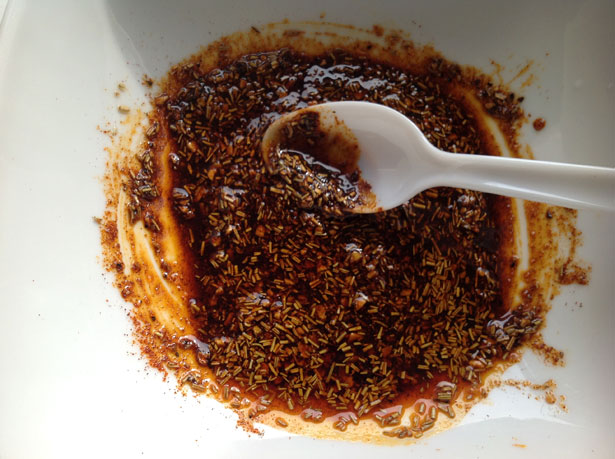 Rosemary Sauce
2.  Mix in the potatoes and chicken (I divided the mix in two – not equally – one for the chicken, and one for the potatoes.)
3.  Arrange the chicken and potatoes in a foil pan (spray the pan with no stick cooking oil (I used a teaspoon of olive oil instead) – pictured below.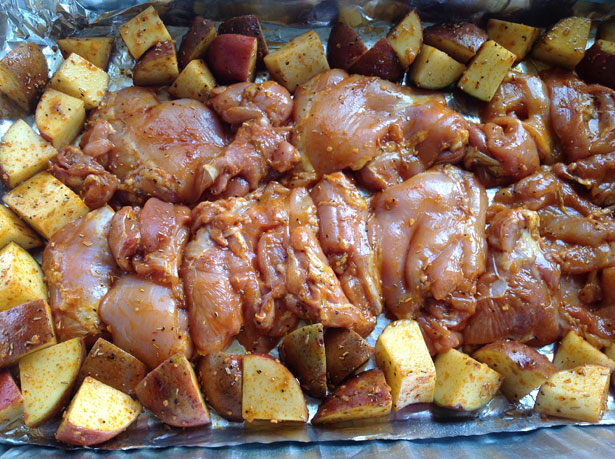 Raw chicken and potatoes
4.  Preheat the over to 425 degrees and roast the chicken uncovered for 30 minutes, or until done.
Voila! Food is ready.