Move over G-string, the C-string is here to stay! I have complained several times – in posts whose names I cannot remember right now and cannot be bothered to find – that I do not like G-Strings. That's because the butt string is too big, and perhaps, some people find it comfortable, but for me, I don't like that thick thing between my butt cheeks. It feels like having a long-lasting wedgie. And I happen to not like wedgies. Therefore, I'd rather wear almost any other kind of underwear — and T-Strings. Their strings are very thin.  But all this time, I didn't know there was something even better: C-String!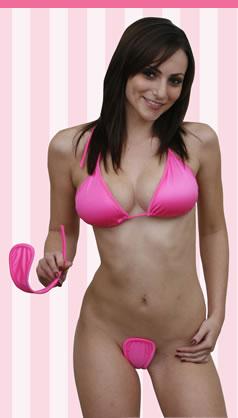 The whole point of this C-String is that it's great for those times when you just don't feel like dealing with a waistband. I didn't even know that waistbands were a problem. Where was I when people started hating waistbands and opting for this head band, ear muff-looking thing? All this time I have been wearing regular underwears – some thick and some thin – but mostly all from Victoria's Secret.
And I have been so proud of myself because I have colorful underwears from a store that sells each for $9.50 and five for $26. I've been feeling pretty darn cool with myself. My only regret is that more people don't get to see how colorful I am in the place where the sun don't shine.  I especially love the ones with inscriptions. The other day I wore a green one that says "Hard To Get" and I showed it to Igwe, telling him, "In case you have forgotten, I am hard to get." At this point, you should stop picturing me cloth-mooning Igwe. And any questions you feel like asking in the comment section about this underwear and Igwe business should not live to see my comment section.
Yeah. So when did we start hating waistbands? Someone needs to keep me abreast of these things. Apart from not having to deal with the waistbands, you also have the added perks of never having panty lines or tan lines. Not to mention, you can wear it as an underwear and as a swim suit (just in time for summer and the opening of our apartment swimming pool). Yippee!!! These are the problems that keep me up at night, and now, there's finally a solution.
You can get your own C-String for $24. With $2 more, you can get five underwears – with glitter and inscriptions! – from Victoria's Secret. Make that 7 underwears if it's during their semi annual sale.
But if you think the front of this C-String is sketchy, wait till you see the back. Continue to see it.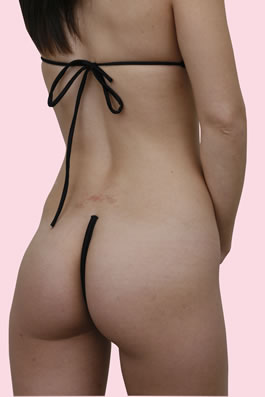 Watch out, Summer 2012! There will be some Verastic butt cheeks on display at a beach/pool near you.
P.S. Am I the only one wondering what would happen if the back of this C-String mistakenly goes into the anal orifice? Just me thinking it? Okay, then.