I'm not going to waste any of your time. I'm just going to throw it out there. This woman, Pauline Potter used to weigh 643 pounds, and this weight took her to stardom – kind of – as she won the Guinness World Book of Records as the heaviest woman in the world.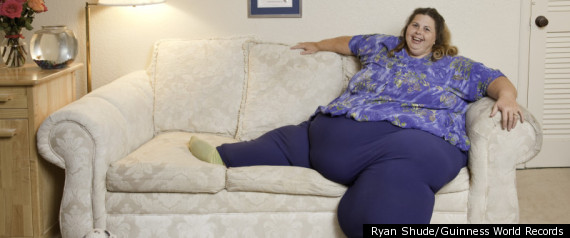 But Pauline has lost weight. She has lost 98 lbs, and she did it by having sex. Lots of it.
Up to seven times a day, Pauline and her ex-husband, Alex (who weighs 140 lbs, less than one of her legs) have sex, and for that, she has lost a whopping 98 pounds.
I don't know if she still does, but she used to consume 10,000 calories per day, and during each session of sex, she burns up to 500 calories. So if she has sex seven times in a day, she may burn about 3500 calories. Pauline has (had?) a BMI of 93. Regular BMI is considered to be between 18.5 and 25.
Pauline said,"I can't move much in bed, but I burn 500 carlories a session –- it's great exercise just jiggling around" … "We love foreplay and massages and, as well as full sex, I pleasure Alex, too." … "My bed is strengthened and, although I can't buy sexy lingerie, I drape a nice sheet over me."
Her ex-husband, Alex said, "Even though one of Pauline's legs weighs more than I do, we're able to position her body to make sex enjoyable for both of us." He also said, "I never fell out of love with Pauline, we just had problems with the kids. It's hard to position her and find her pleasure spots as she has a lot of fat in the pelvic area. But it turns me on knowing she's satisfied. Although once, when she got on top, I couldn't breathe."
And all this time, people have been slaving at the gym (and paying for it too)? Do people not know that there is an orgasmic way – literally – to lose weight? And to think that Pauline doesn't do much to lose said weight, seeing as she is unable to move around much. She just jiggles.