Facebook is fun. It's easy.  It's a nice way to connect to people. It's a great way to grow your business. It may also be a great way to raise your blood pressure, if care isn't taken. You know those Facebook messages? So annoying! I'm not talking about the messages that people deliberately send to you (and you alone). I'm not talking about the messages/conversations that you understand (that also come from people you know). I'm talking about those random messages from a person you do not know, that is also addressed to 150 other people. Like this one …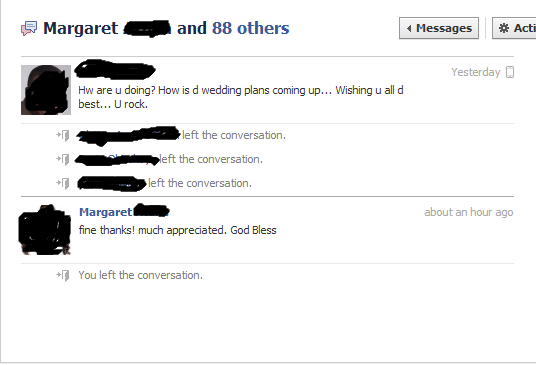 How Not To Send Facebook Messages
What happens is you receive this message from someone you don't know, and the message is addressed to about a hundred other people, most of whom clearly don't know the sender either. But it does not stop them from responding with messages like, "Who is this oh?" … "Please remove me from this thread…" …. "The person that started this thread, thunder will fire you." … "Why am I receiving these messages?" … "Please, you people should leave me out of this. I don't know what's going on."
And then, of course, you have those who are responding to the responses with messages like, "I don't know who sent it." … "How dare you say thunder should fire someone? Are you God?" …. "Stop replying us, please. We don't want!" …  And it goes on and on. And on. And. On.
Some of us are smart enough to leave the conversation, so we don't get any more responses. Some of us, before leaving the conversation, are ready to blow up. We just want to reply everyone and say, "For Pete's sake, stop with the flippin' responses!" But then, we wonder, if we do that, what will make us different from everyone else?
So we decide, instead, to take a screen shot of the messages and save it for a post on www.verastic.com, and we hope that it inspires other people to not do like the original sender of this message.
That is all. For now.