Thanks to Damz who left a comment [and included the link to this article] on my post about women being sexiest in their 30s. I followed the link, and sure enough, it was just my kind of stuff. So apparently, the rise of women who are searching for a perfect vagina has dramatically increased. If you are like me, you will be wondering what on earth a perfect vagina looks like. And most importantly, do you have it?
It's all about labiaplasty – the surgical reduction of the inner labia (labia minora). And from the diagram above, you can see exactly where the inner labia is located.  And according to Dr. Parungao of Beverly Hills, California (whose certification and views I cannot verify), a protruding inner labia is due to the following: genetics, childbirth, hormonal changes, and aging.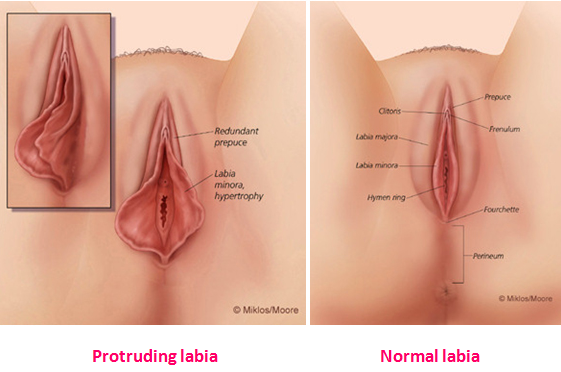 Behold, the images of a protruding and normal labia. Yes, as you can see, I went through a lot trying to put this post up! All the research! Anyway, the number of labiaplasty surgeries have increased five times over in the past five years. And I wonder how women have been finding out that their labia minora isn't normal.
According to what I read online, women realize that their labia is abnormal when they experience pain and discomfort in their genitals; when they experience embarrassment from it being visible from their underwears and pants; from that awkward moment when a man (or a woman, if she's a lesbian, I guess) touches it and has that funny look on his (her) face; and of course … from porn. Kingdom of the Perfect Everything [porn]: flat stomachs, moans, grunts, boobs, and err, labias, too. But I just wanna say that during my porn-watching days, there were some jacked up vaginas! Who knew the hole could get that big? I digress.
Picture via Wikipedia
Disregard what I said about wondering how women even know that their labia isn't normal. If this is what the labia looks like, I can understand why they would feel conscious and uncomfortable. No one needs porn to figure this one out. Still, some of those porn vaginas are even worse than this. Once again, I digress.
This post will not be complete without talking about  Jessie. According to BBC News, Jessie, a woman with an enlarged labia said she used to go through several magazines, looking for women that had her kind of labia, but she did not find any, and made her even more convinced that there was something wrong with hers. Uh huh. So Jessie has been looking at naughty magazines.
She also had recurring nightmares where her labia would tie itself around her neck and people would be staring and laughing. Thanks to labiaplasty, Jessie now has a spanking brand new vagina. I think Jessie might need a spanking new psychologist too – if she does not already have one. Recurring nightmares of the labia? Pretty sure my pastor will even call that demonic sef.
I apologize if I am belittling any woman's real problem here, but I really think that the society we live in has set standards that may be impossible to reach. If I had to guess, I'd say that even after having this surgery, most women will probably still have an issue with one part of their body or the other. It's like me and my phone. I'll tell you about that later.
P.S. I have a "normal" labia. Of course, I checked.
P.P.S. Wait. Does that mean that I have a designer vagina?
P.P.P.S. Busola might kill me for this, but I remember once she told me about someone who had a protruding labia, and when she [Busola] asked this someone why her labia looked different, she said it was because she had received so much oral sex. Now I'm wondering who is right about the cause of the protruding labia: Busola's someone? Or Dr. Parungao of Beverly Hills, California?
So errr … what does your vagina look like?
[Source]