I might get my head bitten off for this one (by both sides of this post), and that's fine. But I made an observation, and I cannot help but write about it. On Friday, April 20th, Igwe and I went to see the much publicized movie, Think Like A Man, which was inspired by Steve Harvey's self-help book, Act Like A Lady, Think Like A Man. I still have not read the book. I typically don't like self-help books, but this one seems entertaining. I just might read it — when I'm done with the unread ones sitting in front of me right now.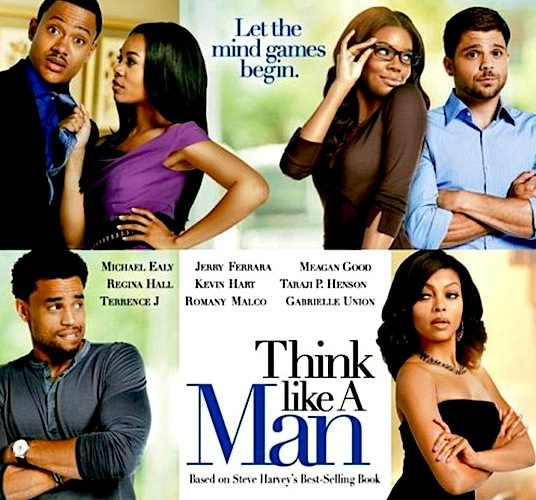 Our movie was at AMC Loews White Marsh (Baltimore, Maryland) and was slated to start at 9:40 PM. Knowing the rush and congestion of White Marsh — on Fridays — and especially for new movies — we bought our tickets early, and then, we went to have dinner. We came back to the theater at about 9:00 PM, and there was already a long queue in the hallway outside our theater room.
It was not until I saw a group of White people walking swiftly past us that I realized how Black my line was. The group – both males and females – walked so briskly past us and headed for the front that the only reason I stretched my neck out to look at them was to see if they were cutting the line to get to the front, but they made a right and entered another theater instead. And as soon as they went in, more and more White people followed. It was then that I realized what was going on: all the White people were going to watch The Lucky One, and all the Black people were lined up for Think Like A Man.
You know, I have lived in America for almost twelve years, and I am still yet to see myself as an African American. Of course, I realize I am Black. But I am just that – Black. I am Nigerian. And Americans – Black, White, and in between – are also just that: Americans. My decision to see a movie is never because of the color of the people inside, and if I had not heard a Black person say so, I may have never noticed that in horror/suspense movies, the Black person always seems to die first. Whether or not this is a conscious effort on the part of the filmmaker is still debatable.
But when we finally got into the movie theater, we were probably seated on the fifth row from the top, and from there to the bottom, I could only do a head count of three White people. I believe there were more, but no more than ten (and the theater was packed full), and I could not help but wonder if all-white movies are this scarce in its Black support. This is something I have never even paid attention to.
I have no intention of seeing The Lucky One, not because of its whiteness, but because it's an overly romantic movie. And Zac Efron is in it, which makes me feel like it's a movie for teenage girls. When it becomes available to rent on Redbox or preferably free on OnDemand premium channels, I'll consider watching it.
Think Like A Man was exactly what I thought it would be: predictable and hella funny. This is not a movie you see for the suspense or surprise ending; you see this movie purely for entertainment. I was pleased to find out that it grossed $33 million dollars in its opening weekend (especially since it cost $12 million to produce it), and it was the top box office movie, too. It beat The Lucky One at $22.8 million, and it also kicked The Hunger Games off its four-week number one spot. It also doesn't hurt that CinemaScore rated it a solid A.
I was disappointed, however, at how surprised critics and reviewers were (still are) at the movie's success. They are not surprised that a predictable, romantic flick made it to the top. No, no, no. They are surprised that a Black movie made it to the top, and they are beginning to wonder why more of these are not made. Yes. I'm beginning to wonder the same, too. Sure, Tyler Perry makes movies, but where are the other African-American film makers? The man has no competition whatsoever.
If there's a time to tap into their Motherland, it would be now. The inspiration from Africa is practically beyond bothers, and they can go anywhere with that – unless, of course, they want to wait till February (Black History Month). All of a sudden, everyone is Black and proud in February. Oh, and let's not forget, African, too.
That said, I sincerely did not appreciate the noise in the theater. I know the movie was funny, but damn! Can a girl just watch a movie in peace? There were times that people laughed so hard and for so long that I literally did not hear anything that was said after the funny moment. And let's not forget the loud remarks like, "Mm hmm!" and "You go, gurl!" and "Gurl, you better go get yo man." And don't get me started on the claps and comments when Morris Chestnut made his grand entrance into the movie.  Oh. My. God. Really?! Err, speaking of Morris Chestnut, I have a post coming up about him.
Overall, it's an entertaining movie. It has all the great people in it: Gabrielle Union, Taraji P Henson, Kevin Hart, Wendy Williams, and Michael Ealy. When I can, I will definitely watch it again. If not for anything else, I have to catch up on those lost moments.
On a side note, Michael Ealy's eyes are entrancing. No man should have such eyes. Indeed, there is a God somewhere.