If you are not married, then the answer is yes. Don't even think about it. The only circumstance under which your answer may be no is if you don't want to be married or if you are into women. But even then, if you are into women and you plan on calling your future partner your husband, then I guess you will also say yes to this question. I don't know if husband is what a woman would call her female partner. I'm just grasping at straws here. Don't quote me. Naturally, I have also digressed. The question at hand is, are you looking for a husband? And if you're a straight woman who plans on getting married, then the answer is yes. I'll tell you where to find this husband. Read on.
I am sure you know that I am not married. I have only mentioned it like a gazillion times. In light of this fact, I, Vera Ezimora, am looking for a husband. But to sleep better at night, I prefer saying a husband is looking for me. Sounds so much better, no? Finding a husband is so difficult these days. Well, it's always been difficult. You don't know where to go or who (whom?) to look at. All the men say they are the one for you, but something is always missing. They require of you what they have not to give. Or they swear they're looking out for you, though their actions hurt you. Or they say they believe in you and your dreams, but everyday, their actions speak otherwise. And then, you begin to truly wonder what is wrong with you. You ever have those moments when you laugh at yourself and ask yourself, "Seriously, what the hell am I doing talking to him?" Yeah, me too.
So now, babes are reverting to the old methods of meeting/finding husbands. Forget Facebook. Forget the grocery store. Forget the club. In fact, forget meeting a new person. That dream has proven abortive. It turns out that meeting a new man is almost impossible. You meet him, get excited about meeting this new man, only to find out that he slept with Chika, your neighbor, he dated Kemi, the girl in your church choir, he toasted Ese for over three months, and just last night, he was still on the phone telling Biola, "Baby, just give me a chance, please." And then, there you are. Right smack in the middle of it all.
What you want is to just show your friends a picture of Obinna say, "This is Obinna, he's a graduate of Philosophy, he lives in South Carolina …" But before you open your mouth sef, one of your friends will help you, "Ah, ah! Isn't this Obinna?! I know him now! We took a Sociology class in 2005. He used to date Bola … no wait, it was Serena he dated. Bola was just his you-know-now! (she winks) Ah, he's a very sweet guy oh. I remember when he was head over heels in love with Ifeoma *sigh* I don't think he ever got over that girl. I even saw them together at the movie theater last weekend. He still had the same look in his eyes. Chei. But Obinna can be a bad guys ooo! He played Chizoba like soccer. The girl was in his room every night getting it from all angles. She thought he loved her. Mmm. Anyway, it is well oh! Ehen, what were you saying? …"
So now, all you want to do is meet a man the old-fashioned way. You want to meet a man who has been vetted by people you know. By your friend(s), by your family, by co-workers. By your Pastor. No longer do you care to meet a new person because as it turns out, that doesn't even exist. The good news is that the time has come for you to meet such a man.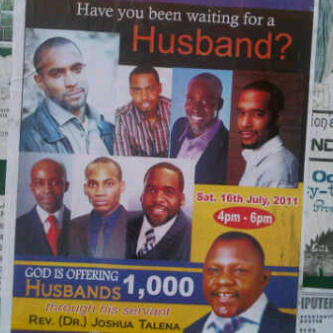 It's going down this Saturday, July 16th 2011 from 4pm to 6pm.  For two hours, God will show you 1000 men for your picking (or for the picking of you). As you can see, our God is a God of specificity. Not 999 men. Not 1001 men. But 1000 men. Hurry while supplies last. Thankfully, this ad even shows you pictures of the caliber of men that will be present
CAUTION: You may take this post as seriously as you want to. Attend at your own risk.