Or maybe not.
Generally, when people start their sentence with, "This is gonna be funny …" it ends up being anything but funny. Like I heard on Morning Joe yesterday, as a matter of fact, the irony is that once you say, "This is gonna be funny," people actually stop laughing. The dead air is worsened when you meet their expectation by really not being funny. But that's not the case here. Walahi, I promise you … This. Is. Gonna. Be. Funny.
So last week, the story that trended was that of Ogochukwu Onuchukwu, the woman that wrote her husband from the grave. So naturally, people were still sensitive to the issue of domestic violence against women … and that was when the new story broke. It was the story about the other Nigerian woman who was beaten to a pulp. I first read the story on Imo State Blog. The title of the post was called, "How did our Nigerian men turn to murderers and wife beaters?"  And then, of course, just like Ogochukwu Onuchukwu's case, it began to trend everywhere: BBM, Twitter, Facebook, blogs, etc.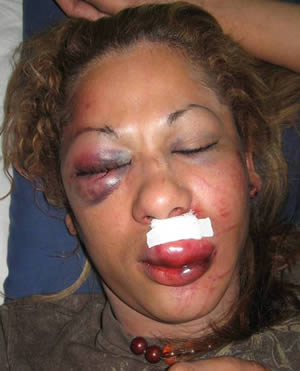 Anyway, in the post, the author expressed surprise at the recent happenings of domestic violence by Nigerian men. She said (and asked), "In the past few years, our Nigerian men have made international headlines over killing their wives or beating them blue black as we see in this case. Could it be that our  Women are becoming too confrontational? Could  it be the western influence? Too many questions."  Truly, truly, there are too many questions. I was going to reply and say that the issue of domestic violence in Nigeria and/or by Nigerians isn't new. It is its proof and evidence on the internet (and Blackberry Messenger) that is new. Oh, and Facebook, Twitter, and blogs, of course.
But as it came to pass, there is now an update on the news. And this is the funny part. It appears that
(a). The woman in question was not beaten by her husband.
(b). The woman isn't Nigerian. She's actually from Honduras.
(c).  Her name is Barbara Paola Vargueza.
(d).  This incident was reported on May 13th —- 2009
And the best part (e).  The woman might not even be a woman. Errr. He or she is a transvestite. So I don't know if this picture of him/her is a man dressed as a woman — or a woman dressed in her "normal" clothes.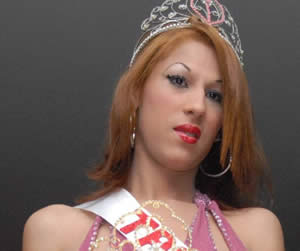 But not to worry, The Imo State Blog has provided a link where you can read the entire story … in Spanish. I am actually curious. I just might translate the entire story. Who knows? We might be looking at a totally new story: maybe a Senegalese man who did plastic surgery to look like his fraternal twin brother died on the operation table when a hurricane occurred and swept in a hungry shark that attempted to eat him, but quickly changed its mind when it couldn't figure out the blood group of its would-have-been next lunch. Possible, no?
The Imo State Blog wrote in the follow up post (where it clarified the story the original story), "While many of us are relieved that this incident was not an another  issue of domestic violence recorded in Nigeria, it doesn't erase the fact that the cases of domestic violence in the country are on the rise. The picture of this wo/man is not different from the ones we see in Nigeria."
So, relax everyone! This isn't the case of a Nigerian woman being beaten by her husband. It's just a dead man or woman in Honduras. Whew! That was close.
P.S. I have to give Imo State Blog its dues. Not everyone goes back to fish out the real story. Or the entire story. I'm glad they fished out the real story and published it for us all to be better informed.
P.P.S. If you're thinking, "But these two pictures don't look like the same person na!" then you're on your own oh. Let's reassemble when if I translate the Spanish story.