I don't know what happened between 28-year old Cristal Richardson of Dallas, Texas and 34-year old Cedric Owens, but it cost Owens his penis and his life.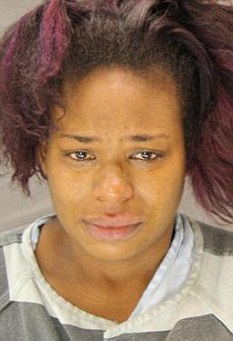 I don't know what's going on with women going crazy and castrating men, but it was only a little while ago that I told you about the Chinese woman that grabbed a man's nuts and squeezed them till he died. Here we go with another case. It happened at a Motel 6 in Dallas. A security guard told police about the noise he heard from Richardson's room, and when the police arrived, they found her walking naked and bloodied.
She cut off his penis, slit his throat, and then stabbed him to death. How many ways can you possibly kill a man? I wonder what went wrong. Before she was arrested, she was first taken to the hospital to be treated for minor injuries to her hand. You gotta love America. If this were in Nigeria, the police would probably not even be involved. Neighbors will put a tire around her and set her ablaze – something I do not condone, by the way. And no, I am not being sarcastic.
It may not have much bearing in this case, but both Owens and Richardson have criminal records. She has a record that includes assault with a deadly weapon, theft, and drug possession. He had a record that included drug possession, family violence, and evading arrest.
May the odds be forever in your favor [that you will not have your penis and/or balls squeezed, cut off, chopped, or blended].
[Source]