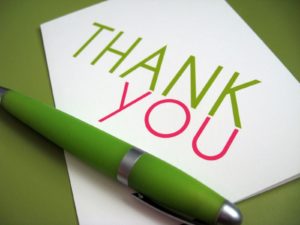 One of the things my parents drummed into my ears as a child was the need to say please and thank you. I don't know if it is the time we live in or the country we live in (US of A) that has killed this courteous act.
It's not that I really think that this is an American problem (because Americans are thankful), but I am here in America, and the people I have noticed doing this are Nigerians based here in America. Basically, you attend someone's event or do something for them and they never, ever feel the need to say thank you. What's that about?
I remember some years ago I met a lady – let's call her Jane – at a friend's event. We instantly hit it off. We exchanged numbers that day, and although we never really called each other, we still ran into each other at places, like church, the African store, etc.
When it was time to celebrate her son's birthday, Jane bombarded my phone with calls and texts. And when she ran into me anywhere, she did not fail to remind me. When the day finally rolled, I could not even pretend to have forgotten. So I went. And I took some gifts for the little boy.
The party was so disorganized that I ended up MC'ing … and without pay, by the way. It was almost a whole year later before Jane said thank you. And even when she did, it only added salt to the wound. We ran into each other at a public place and she said, "Oh, Vera, I know you're going to say that I didn't even call you to say thank you, but I've just been so busy."
Busy???????? I didn't say anything to respond to her. What was I supposed to say? She had many things to thank me for: (1) I came for her event, (2) I brought a gift, and (3) I MC'd for free – and without prior notice.
But Jane isn't the first person to pull this kind of stunt, and I know she won't be the last. The way I function these days is, if I show up to your event and you don't say thank you, I'm not showing up next time. It's just that simple.  Do I go for events because I want to be thanked? Of course not. But it's simple courtesy that when someone does something for you – no matter how big or small – you should say thank you. Express some kind of gratitude.
Now, this brings me to something I have been pondering: when you go to a Nigerian wedding and you sign that guest book with your name, number, e-mail address, and mailing address, what do they do with that information? Cause I have gone to many, many weddings and signed those things and nothing happens afterwards. No calls. No texts. No thank-you notes. No e-mails. Zero. Zilch.
I truly believe that if you can take time out of your busy schedule to invite someone to your event, then you can take time out of your busy schedule to thank them for coming. After all, your guests have done the same thing – taken time out of their busy schedule. I remember when I had a surprise get together for Igwe last year. I called everyone to invite them, and then I sent follow up texts. After the event, I did the same exact thing: I called everyone to say thank you, and then I followed it up with text messages.
There are many ways to thank people. You can (1) Call them, (2) Text them, (3), Send a thank you note, and (4) Send an e-mail. I use all of the above as ways to thank people. Yes, including the hand-written thank you note.
But I'm really curious to know if there is anyone else out there in this big, bad world who feels the same way as I do. And do you think I'm overreacting?