Because she will come back for you.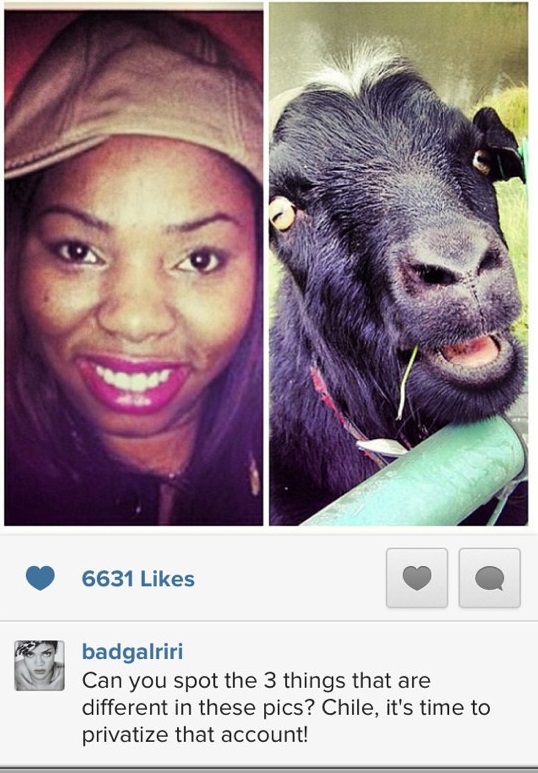 Rihanna put this picture up yesterday on Instagram. I follow her, so I saw it. But I didn't quite understand it. I thought it was one of those funny pictures people make and everyone reposts it. But I started reading some of the comments (there were only about 12,000 at this point), and I saw that some people were in favor of her putting the picture up while others felt it was a tad bit immature.
Apparently, the story here is that the girl had been leaving several mean comments on Rihanna's Instangram, and recently she insulted Rihanna's family, something about weed and what not. So Rihanna responded with this picture. Considering Rihanna's over 7 million Instagram followers – of which I am unashamedly one – you can imagine how many people saw this picture and hunted the girl down on social media to give her a piece of their mind.
The argument now is, was that cyber bullying? I say hell no, it wasn't. It was simply a cause-and-effect case, a reaction that came from an action. I know we sometimes forget that celebrities are just like us, but forgetting doesn't make it any less true. You can't go around commenting on someone's Instagram, insulting their family and not expecting any repercussion.
I really do think that it's unfair for people to expect celebrities to turn the other cheek every time. Rihanna is a human being with human feelings, so she should not be expected to act like an angel . Like they say, if you cannot handle the heat, don't enter the kitchen.
I like what Rihanna did. Maybe she can use this girl as an example to others, so they know not to come for her.
P.S. The girl has locked up all her social media accounts. I wonder why.