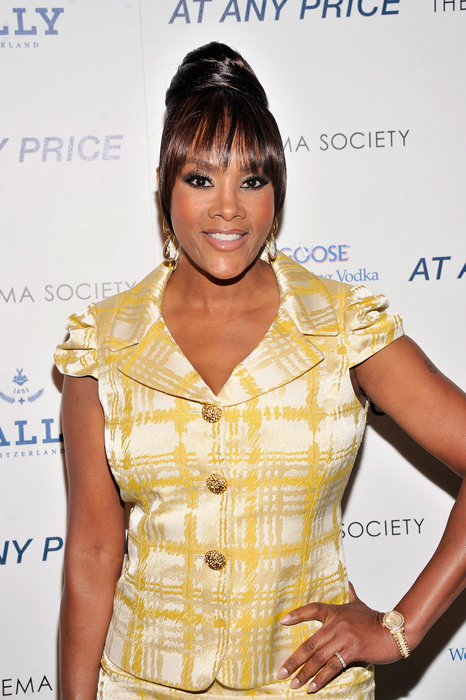 Huh?
So, Vivica A. Fox was recently on a radio show discussing a lot of things, including her evolution in her choice of men. Vivica was married to Christopher Harvest from 1998 to 2002. I still haven't forgotten when she dated 50 Cent. Ugh. I was so shocked. That, to me, was like if I read that Kerry Washington is dating Wiz Khalifa. Eww? Sorry, Amber Rose.
Vivica A. Fox is now 49 years old. Vivica has never been my favorite or least favorite actress; she's just been Vivica, not a maker or breaker of anything for me. Anyway, here's what she said during the interview, "I used to be so lustful. I would lose my mind over a six pack and a smile, it would get me every time and usually get me in trouble. Pretty eyes, pretty teeth? Forget about it! But, I think now I'm looking for a good partner, just a good man, whereas before it would be mostly physical. Now, I need a man who's a gentleman, more old-fashioned. Someone who I could laugh with and have fun with. I'm trying to date above 30 now. Thirty to 35 is the window. Not saying I won't make an exception if someone special comes along, though!"
So Vivica, I hate to break it to you, but you've got things all backwards. You're about 20 to 25 years behind in your choice of men and age group. You should be looking for someone who is 50 to 55. And dating 30 to 35 year old men should be the exception, not the rule.
Of course, young men can (and do) date younger women, but Vivica isn't like J. Lo for example, who in my opinion is young-ish. Like, we all know that J.Lo isn't a spring chicken, but we don't get too shocked when we see her with Casper (I heard they've broken up by the way). Vivica, in my opinion, is old-ish. I know it's a double standard, but May-December souls tend to look better when the man is older, than when the woman is older.
For example, women can call their men "daddy," and it's considered cute and sexy. But can you imagine your man calling you, "Mommy?" No woman wants to remind her man of his mom. Yuck. There's a reason why during sex, men can ask "Who's your daddy?" and women won't ask, "Who's your mommy?"
So, err, Vivica, girl, you're not yet serious. My short response to this desire of yours: girl, bye!