I just recently found out about birth photography. I mean, I've always known that people take pictures of child birth, but I've always pictured it more as a friend or member of the family taking pictures. However, you can actually hire a birth photographer to take professional pictures.
I know it's not about the vagina, but I don't think I can ever, ever let someone take pictures of my vagina. Or my breasts. No way. Some people don't have vagina pictures of their child birth, but some other people do. The photographer captures very raw emotions: you can see the pain on the mom's face as she pushes, the anxiety on the dad's face, and the dilated vagina with the baby coming out. I like to see these pictures, but I don't want mine to be seen. Am I selfish?
Even as I type this right now, a part of my mind is saying, "Well, it's not so bad. Think about many years later when you're holding those pictures in your hand." Or "Think about your son's wedding. Wouldn't he want a picture of him coming out of his mommy's vagina in the slideshow?" Kidding.
Seriously, I think that child birth is such a beautiful thing, and I am at loss for words to describe its miracle and the greatness of God through child birth, but I am just not sure I can handle someone taking pictures of my vagina. I know, I know. I keep coming back to the vagina thing. Perhaps, if there's a way to take the pictures and not have any of them online, unless I blog them myself.
Birth photography is BEAUTIFUL! I couldn't stop looking at the pictures online. Some of them have pictures of the whole thing (vagina and all), but I cannot post those here. Anyway, enjoy the pictures below.
I like how the daughter on the right is like, "Look, I don't care 'bout no new baby. I'm calling dibs on the right boob!" Go on, girl! You were there first anyway 🙂
Absolutely love the kiss between the couple. It's like, "Honey, we did it."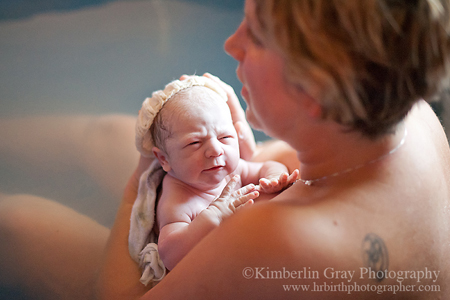 Image source: Birth Photographers
Baby looks like he/she is saying, "Good Lord! It's bright out here! Someone turn the lights out."
Is he cupping her breast? Boy, don't start what you can't shouldn't finish! Too cute!
Future Miss America. She's striking poses already.
Yes, baby. I've got you!
This had to be difficult. I don't know for sure if that's a military uniform that the baby's father is wearing, but wherever he was, I'm sure it was difficult to not be there while his baby was being born. And I can't imagine what it felt like for the mom.
I cried after looking at these pictures, especially the second to the last one. I don't know the pains and joys of motherhood, but from all indications, it's not easy at all. The women in these pictures had the support of their partner, but you can still see the pain on their faces. What about women who give birth alone? Wow.
On a lighter note, I decided that maybe I'll do it. Like 50/50 chance. But just to entertain myself (cause I already had an idea how this conversation would end), I decided to ask Igwe how he felt about us having a birth photographer. His exact words: "F*ck no! That's invasion of my privacy. We can't have someone snapping my private part." Then, in the most sarcastic way, he proceeded to call me, "Madam Child Photographer" for the rest of the conversation.
All I'm going to say to Igwe is, whose private part is it anyway?