Keyword: Might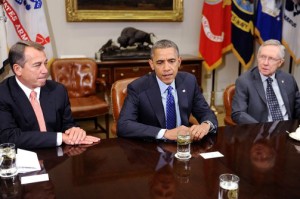 Two days ago, I put up a write up about the fiscal cliff and how it will impact Africans, if we do fall off it. I was – still am – quite disappointed about how little we (Africans) know about the fiscal cliff, considering that it's all everyone has been talking about. You do not have to be a political aspirant or junkie to know that there is a fiscal cliff ahead of us, and that December 31st may make or break 2013. Just to be clear, I am not a political aspirant, nor am I am political junkie, and the Africans I am addressing are the one who live here in the United States.
Tomorrow is the last day of The Verastic Show for the year, until 2013. Yes, even I need a break, too. This blog, however, doesn't go on breaks. Tomorrow's topic is a light-hearted one: what does it mean when girls say [of men], "We are just talking?" I'll be co-hosting with Sanmi, a certified instigator. I love it!
However, at some time during the show, I will be taking a call from Sylvie Bello, the CEO of the Cameroon American Council, a non profit organization geared toward immigrants. The Washington Post called it the "first of its kind," and the DC Mayor recognized its work too. If cuts are made due to the fiscal cliff, this is one of the major organizations that will suffer. As you can imagine, it cannot serve its community efficiently with cuts.
That said, Sylvie Bello is working on having a representative of the White House join us for a few minutes on The Verastic Show tomorrow. Because of the limited time, it is not guaranteed. As you can imagine, they are busy over there at the White House. The bad news is that when tomorrow comes, they might not make it. The good news is that if they don't make it tomorrow, they will DEFINITELY make it next year when the show goes back on air. This is a promise. [White House, please don't fall my hand ooo! I have made a public promise on your behalf].
On that note, what questions do you have concerning the fiscal cliff? Leave a comment and let us know. Let's tackle this thing tomorrow. Looking forward to hearing from you.
****************************************************************************
P.S. You can connect with Cameroon American Council on Facebook
Listen here: www.gidilounge.fm
[You can also listen via mobile apps. Search for Gidilounge on iTunes and on Google Playbook. For Blackberries, go to http://bit.ly/gidiloungeapp
Time: 12pm to 2pm U.S. Eastern Time || 5pm GMT  || 6pm Nigerian Time
E-mail: radio@verastic.com
Twitter: @verastic
Call in: 1.866.566.4434 or via Skype (Gidilounge)