I didn't go to the dentist for – not because I did not want to go, but because going to the dentist just wasn't something I thought I had to do (unless I had a problem), and even when I was curious about going, my lack of insurance hindered me. Eventually, I did go, and it was not out of curiosity, but because my teeth had suddenly developed an aversion to anything that was warm or cold. They (my teeth) especially hated it when I dared to switch from one temperature to the other – like ice cream to coffee or vice versa. Or more realistically for me, from hot pepper soup to cold water. My dentist confirmed that I had tooth sensitivity, and recommended that I use Sensodyne® Repair & Protect to help relieve my tooth sensitivity.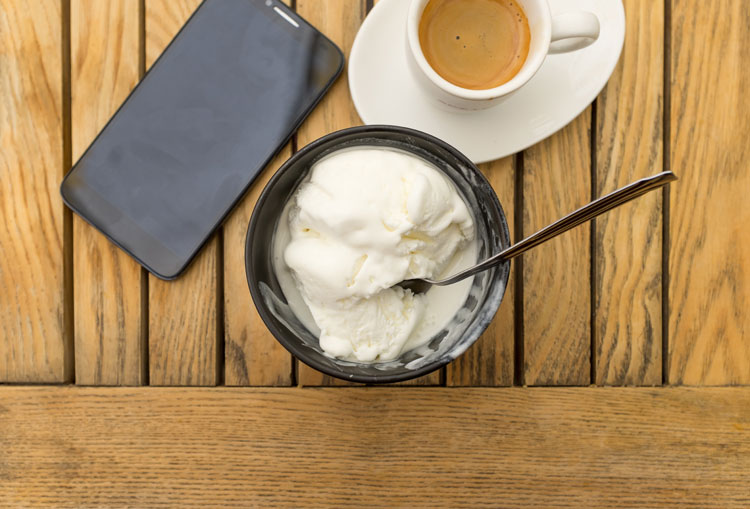 I still remember going to the restaurant and being unable to enjoy one of my favorite desserts there: a chocolate molten cake. The cold ice cream and hot fudge just could not agree to be eaten in my mouth. Every bite I took was followed by pain that ate through my teeth and gave me what felt like the most intense brain freeze ever. I would grimace in pain and hold the side of my face that hid the dentist-diagnosed tooth sensitivity. It was rough.
For whatever reason, we don't usually take sensitive teeth seriously. We know it hurts, but if it does not involve a root canal, we just figure that it cannot be that bad. And it does not help that the sensitivity is usually infrequent. One week you think you're dying and the next week you ask yourself, "what sensitive teeth?" I know this. I have been through this, and it isn't pretty.
There are lots of toothpastes out there, but in my opinion only one does what we sensitive teeth people need it to do: Sensodyne® Repair & Protect. Used twice daily, it can help repair sensitive teeth for lasting sensitivity protection. *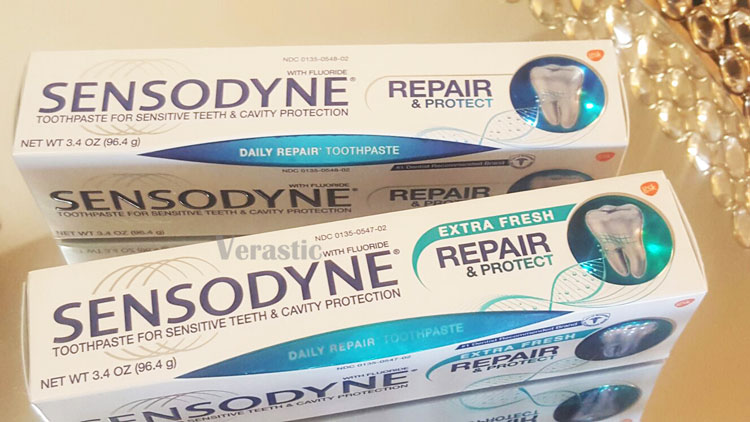 While tooth sensitivity is a permanent condition, Sensodyne® Repair & Protect can make it manageable. It is the number one recommended toothpaste by dentists for sensitive teeth. The active ingredient, Stannous Fluoride builds a repairing layer over the sensitive area(s) of the teeth with twice daily brushing.
I have had sensitive teeth for years now, and since you have not heard me muffling a scream while holding the side of my face when eating or drinking hot or cold food and drinks, it means that Sensodyne® Repair & Protect is doing what it's supposed to do. One myth that is out there is that Sensodyne® can only help repair and protect your teeth, but cannot do what regular toothpaste does. False. With Sensodyne® Repair & Protect, you get all the benefits of traditional toothpaste plus more.
Ladies and gentlemen, remember, you have to brush your teeth twice daily and visit your dentist twice a year to reap these benefits. You also have to use it continuously, not just when your sensitive teeth hurt. And if you're lucky, you might have a smile as bright as mine.
P.S. Honestly, it surprises me that Sensodyne® has not called to feature me in a commercial.
*forms a reparative layer over the sensitive areas of the teeth with twice daily brushing
What kind of toothpaste do you use? Tell me in the comments for a chance to win a $100 Visa gift card!
Entry Instructions:
No duplicate comments.
You may receive (2) total entries by selecting from the following entry methods:
1. Leave a comment in response to the sweepstakes prompt on this post
2. Tweet (public message) about this promotion; including exactly the following unique term in your tweet message: "#SweepstakesEntry"; and leave the URL to that tweet in a comment on this post
3. Blog about this promotion, including a disclosure that you are receiving a sweepstakes entry in exchange for writing the blog post, and leave the URL to that post in a comment on this post
4. For those with no Twitter or blog, read the official rules to learn about an alternate form of entry.
This giveaway is open to US Residents age 18 or older (or nineteen (19) years of age or older in Alabama and Nebraska). Winners will be selected via random draw, and will be notified by e-mail. The notification email will come directly from BlogHer via the sweeps@blogher email address. You will have 2 business days to respond; otherwise a new winner will be selected.
The Official Rules are available here.
This sweepstakes runs from 11/21/2016-12/31/2016
Be sure to visit the Sensodyne® brand page on SheKnowsMedia.com where you can read other bloggers' posts!
Sweepstakes is in no way sponsored, endorsed or administered by Sensodyne® or GlaxoSmithKline Consumer Healthcare