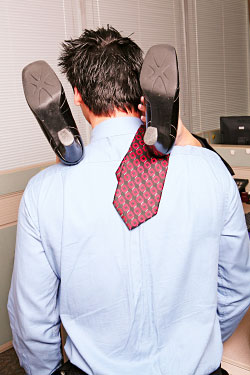 Apparently, konji is on the office rise. Who knew?
There's a new report that office sex has increased by 73% since last year. Seventy-three flippin percent!  Not only is there an increase, there is also apparently a reason for the increase. It is because of cell phones. Those little evil gadgets.  See, because everyone uses a cell phone and carries it to work, there is a lot of communication between coworkers and between employees and their partners. Texts. Sexts. And before you know it, someone is meeting someone for a quickie in the coffee room. Or wifey is bringing her husband something to eat.
So I cannot help but wonder, who are these people having sex in the office, and who are they having sex with? Yes, I know that some of them are doing it with their spouses and significant others, but what about the rest that are doing it with their co-workers? And I am not talking about the coworkers that they are dating.
Now, there's only one question: considering that cell phones (and gadgets in general) are becoming even more technologically advanced, what then is the hope for the future? I mean, right now, I can do just about anything with my cell phone. So what will happen when cell phones can do even more, or when new and more advanced gadgets are introduced? For example, right now, people can send pictures and videos, but what will happen when you can stream live from your cell phone to another [assuming that this isn't already possible]?