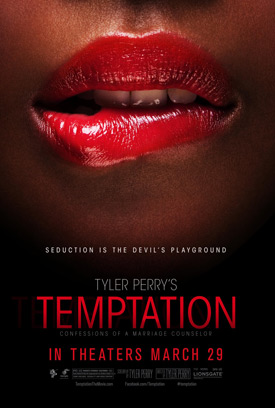 The actual movie title is Tyler Perry's Temptation: Confessions Of A Marriage Counselor. I saw the movie on Easter Sunday with my friends, and well, I was disappointed. Read on, no spoilers, I promise. So there was quite a hype and an excitement with this movie, and who can blame them? The preview looked good.
I really feel bad for saying this because I do like Tyler Perry and I especially respect his story (the way he came from nothing to something). Now, this movie had way too many holes in it, in my opinion. Too many times, I was asking, "Why this?" and "Why not that?" and "But …" I know that Tyler tends to teach lessons and morals at the end of his movies, but this one felt like a Nollywood movie, and I sincerely don't mean that in a good way. Though next to most Nollywood movies, this would receive five stars.
It was entirely too predictable; nothing that happened surprised me. But there were many scenes that were just too much. Brandy, for example, had this weird scene where she went into her house looking terrified and suspicious, and we didn't know why. This may have been for the element of surprise, but we were more dumbfounded and irritated than we were surprised. Then there was the scene where Harley almost beat up a guy on a bicycle because Judith almost ran into him. It was overly dramatic, not at all a natural response to what happened.
There was also the issue of the so-called temptation. I know you know that the movie is about someone cheating on someone. Well, maybe it's me, but I did not see or feel the chemistry between them. For people that were supposed to be be on fire for each other, the chemistry was rather cold.
At the end of the movie, everyone except Brandy seemed to age. In fact, I think Brandy had the same hair, and this was supposed to be years later. Where have I seen this before? Oh, yeah, Nollywood. I want to talk about someone else's appearance in the movie, but I wouldn't be able to do that without spoiling the movie, so I'll let that go.
Bottom line: the movie – for me – was not believable. I did not even shed a single tear. This may not mean anything to you, but I cry for every movie. Even cartoons and commercials. So when I did not cry for this movie, especially considering how deep it was attempting to be. that's definitely a sign.
Best part of the movie: everyone had ridiculously white teeth. And it was beautiful to see. No kidding. I wouldn't recommend you pay $10 for this movie. Wait for it to come to Redbox. I don't know what the next Tyler Perry movie will be, but I already have plans of not going to the theater to see it.
Has anyone else seen the movie? What did you think of it?
P.S. Dear Tyler Perry, if by some twist of fate, you happen to be reading this, call me. I promise I'll make your movie better.