Before I had Ada Verastic, I heard too many stories about moms spending all their time and energy on their children and letting themselves go. I did not think I would be one of those moms. Ada Verastic is now five months old, and I still don't think that I have let myself go. However, having a baby girl has shifted my focus and excitement from me to her. I'll explain. When Ada Verastic first made her debut, I was not as obsessed as I am now with dressing her up, but that might have been because I needed some time to get used to her being a girl. As you know, we did not find out her gender before having her, and so many people predicted I was having a boy, due to the way I was "carrying," so I started believing it, too. Then Ada Verastic surprised us by being a girl.
Now that I am used to having a girl, it seems like all I do is obsess over how to dress her. For example, her birthday is in October, and I am already obsessing over how we will celebrate it. What will she wear? What color will it be? What will be the theme of this birthday party?
In recent times, I have found that I have neglected myself because I was too busy thinking about which headbow to put on her. A great example is how I destroyed my hair. In my last Ask Me Anything video, I mentioned that my hair braids were overdue to be taken out, and I promised to take them out. Well, by the time I took them out, I had lost my edges again. I lost so much hair, and I was disappointed that I caused it.
Since then, I have been using the Garnier® Whole Blends™. No, I am not using it to grow my hair, nor does it promise to do that anyway, but I have decided that I need to give my hair some attention, and Garnier® is helping me do that. I'm using the Garnier® Whole Blends™ Hydrating line with Coconut Water & Vanilla Milk Extracts, and the smell alone is everything. You can imagine it: coconut and vanilla.
Basically, the Whole Blends™ brand of Garnier® makes gentle yet nourishing products for naturally beautiful hair. And for some of us (me), our hair isn't feeling very beautiful right now – thanks to neglect – but we will still be kind to our hair.
Garnier® Whole Blends™ Hydrating line with Coconut Water & Vanilla Milk Extracts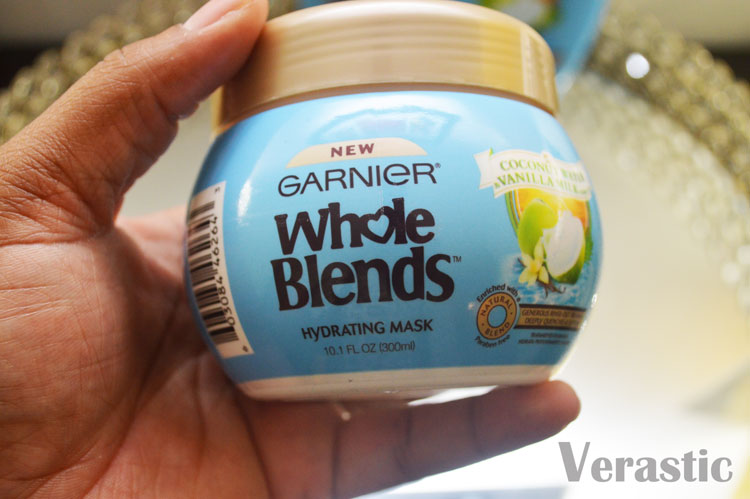 Garnier® Whole Blends™ Hydrating Mask in Coconut Water & Vanilla Milk Extracts[/caption]
My favorite product is definitely the hydrating mask because Lord knows I need a lot of it. The only thing that would have made my experience with Garnier® Whole Blends™ better is if someone had washed my hair for me. That would have been the ultimate pampering experience. Back when my hair was permed, Funmie used to wash and condition my hair, and it was the best feeling ever!
Like I mentioned earlier, I have the Whole Blend™ products in the Hydrating line with Coconut Water & Vanilla Milk Extracts, but if you are not about the coconut and vanilla life, then you're in luck because there are other options, like the Repairing line with Honey Treasures, the Smoothing line with Coconut Oil & Cocoa Butter Extracts, the Nourishing line with Avocado Oil & Shea Butter Extracts, the Refreshing line with Green Apple & Green Tea Extracts, and the Color Care line with Argan Oil & Cranberry Extracts. You can check them all out here.
Although I have always known that my mom loves me, it was having Ada Verastic that made me realize just how much she loves me. I love spending time with Ada Verastic, watching her learn and grow, and I have cried many, many times at the thought of her leaving for college. I know it sounds silly since she hasn't even started Pre-K (and she's only 6 months), but I just know that I'm going to be a mess when I drop her off to Pre-K. And when she goes off to college, I may need to lie on someone's couch to discuss my feelings. Until then, I'll enjoy spending every second with her.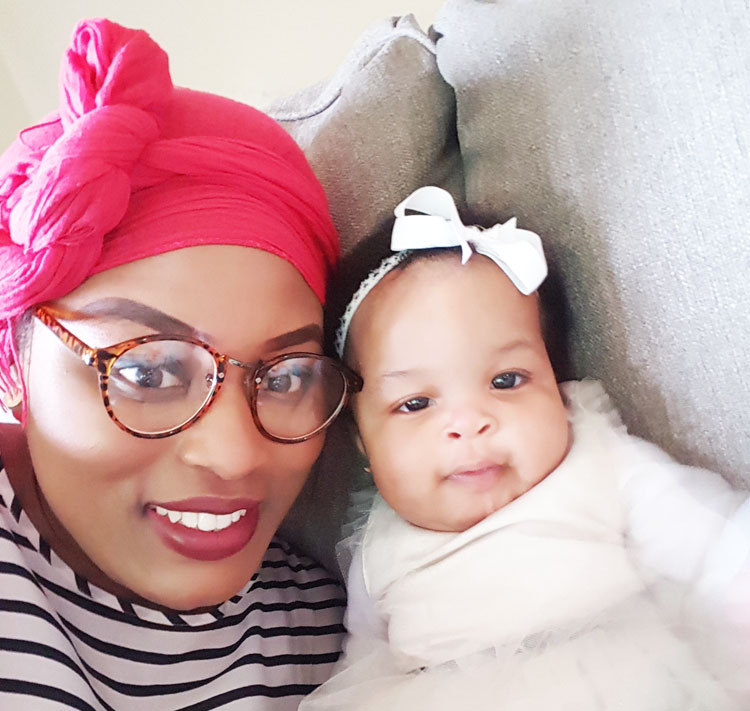 Verastic and Ada Verastic
There are too many pictures on my phone that look just like this: me and Ada Verastic looking into the camera with her looking as cute as ever, and me, with a scarf on my head because I failed to get my hair done. P.S. I promise to treat my hair (and myself) better.
What could you do to treat yourself better? Let us know in a comment and get a chance to win a $100 Visa Gift Card!
Entry Instructions:
No duplicate comments.
You may receive (2) total entries by selecting from the following entry methods:
1. Leave a comment in response to the sweepstakes prompt on this post
2. Tweet (public message) about this promotion; including exactly the following unique term in your tweet message: "#SweepstakesEntry"; and leave the URL to that tweet in a comment on this post
3. Blog about this promotion, including a disclosure that you are receiving a sweepstakes entry in exchange for writing the blog post, and leave the URL to that post in a comment on this post
4. For those with no Twitter or blog, read the official rules to learn about an alternate form of entry.
This giveaway is open to US Residents age 18 or older (or nineteen (19) years of age or older in Alabama and Nebraska). Winners will be selected via random draw, and will be notified by e-mail. The notification email will come directly from BlogHer via the sweeps@blogher email address. You will have 2 business days to respond; otherwise a new winner will be selected.
The Official Rules are available here.
This sweepstakes runs from 5/4/2016 – 5/31/2016
Be sure to visit the Garnier® brand page on BlogHer.com where you can read other bloggers' posts!