Did anyone else watch yesterday's episode of Real Housewives of Atlanta? Say you did, please. I thought the first reunion was the best one because Porsha literally dragged Kenya by the hair and dragged her across the floor, but I was wrong. I fell in love with Real Housewives of Atlanta again yesterday when Phaedra gave her a read and her her laid flat on the ground – not literally.
As usual, there is a lot of argument going on between everyone and Kenya. No one really jumps in contribute to the argument between Nene and Kenya because two of them are the least liked cast of the show, so sure, they can be off with each other's heads. If I had to pick a winner between Kenya and Nene, I'd pick Nene for sure.
The best part, however, happened when Phaedra went in on Kenya. Everyone was silent during and after that speech. Igwe and I simultaneously said, "Damnnnnnn!" after she was done. She gave Kenya a read that Kenya will not forget in a hurry. Phaedra said that while she's spending the weekend with her family, Kenya is busy ….
"And while she's sitting around, running around talking about my husband, my — the father of my children, and she spends her weekends pedaling through sperm banks, looking through catalogs to try to find a donor, honey, you don't know if your baby daddy will be an ax murderer or a child molester, because what you will know is that he needed $10 to get him a medium sized pizza, so he ejaculated in a cup, so you could have a kid. Now, check that."
Damn, Phae-Phae!!! *Thumbs up*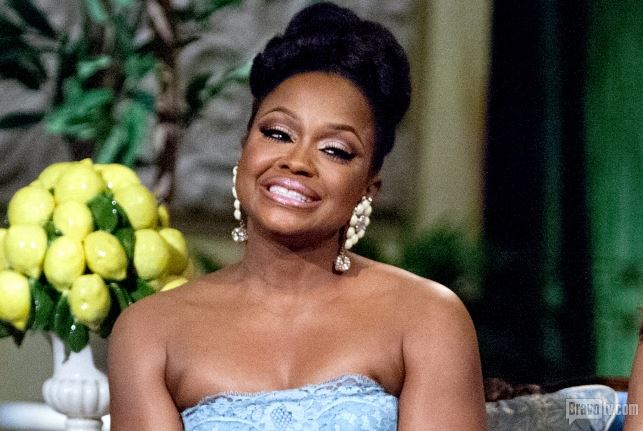 I literally had goosebumps. It was too good. I have always liked Phaedra. In my opinion, she does the best with fighting people with her tongue. I would not want to go into a war of wards with Phaedra. And I guess it makes sense that she's the best with her words since she's a lawyer … and fighting with her words is what she does in court.
Kenya had nothing to say after Phaedra had washed her, rinsed her and hung her out to dry. When push comes to shove, it is the truth that Kenya is browsing through catalogs for a sperm donor while Phaedra has a family – whether or not her husband is a criminal.
Even Andy didn't know what to say next. After he recovered from his shock, he asked Kenya how she'd feel if someone was flirting with her husband. Kenya said she would not dignify that comment with an answer and Phaedra chimed in and said that she [Kenya] could not dignify it because she did not have a man. And as if she had not received enough insults, Apollo found it to be the perfect time to add, "You should get your toenails done because they're dirty." Wait, why won't you watch the clip for yourself?
Go Phaedra!!! The Reading Award definitely goes to you. And you are currently the housewife I'd most like to meet. Anyone who can shut Kenya down definitely deserves one yansh throwaying from me. Poor Kenya, they had her ass cheeks spread so wide on the show, they might have given her a new hole.
For the other cast of the show, I have only little to say about them:
Nene: She's slipping at the Queen of the show, and she doesn't quite know how to deal with it. The blonde hair looks good on her and works as a signature style on her, but that lace front was distracting to the eyes.
Cynthia: Weak. Weak. Weak. Can't stand up to her husband, Peter. Can't stand up to her annoying sister. And can't stand up to Nene. Girl, bye.
Kandi: Love her. She's currently the only one who says it like she means it when it concerns Nene. She doesn't say one thing in front of Nene and then another during her confessionals. And she's the richest of them all. Oh, speaking of being the richest, when Nene said that none of the girls on the show are on her (Nene's) level, Kandi confidently said that she knew that Nene was not referring to her. Yaasssss! But err, Kandi needs to learn how to stand up to her mom.
Porsha: I love the new Porsha. Ever since her marriage to Kordell ended, she's been bigger and bolder – and I not referring to her enlarged breasts. She's just been visibly more confident, happier, and more of herself.
Kenya: Let's just say that she got gang-raped in the butt by the cast with no vaseline. She was chewed up and spat in the gutter and washed away by piss. You get the picture?  I didn't know that Porsha dragging Kenya by the hair across the room was the pleasant part for Kenya.
Goooood stuff!
Do you think they'll all come back for the next season? If not, who do you think will not be coming back?